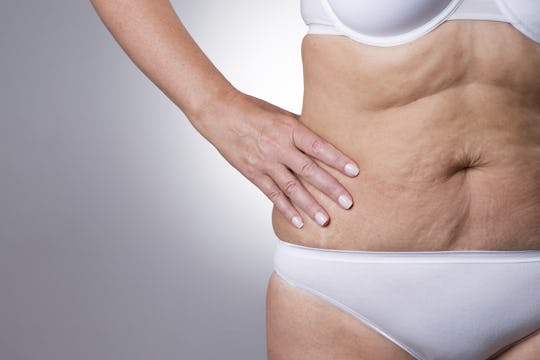 Fotolia
9 Ways To Fall In Love With Your Postpartum Body (Because It's Not Always That Easy)
Like many women who've had a baby, I unnecessarily stressed over my postpartum body. I resented what pregnancy had put my body through, and I would unfairly pick apart every single change I noticed. It's been almost two years since I delivered my second (and last) child, and though I'm still not 100 percent confident in my body, I can confidently say that I've come a long way. I realized there are so many ways to fall in love with your postpartum body, even if it never looks exactly the way you want it to, or envisioned it would.
I get that my body did an amazing thing, twice, but that doesn't keep me from unfairly evaluating its added scars or pounds or curves. Although I consider myself a fairly body positive person, the many changes that created my postpartum body admittedly threw me for a loop (especially at first). When I looked at my stretch marks or the muffin top trying to squeeze into my old jeans or the slightly loose skin on my lower abdomen, all a result of carrying my two boys, all I saw was something imperfect; something flawed; something used.
My postpartum body felt foreign to me, and the inner angst that my outer shell was causing me was far from healthy or fair or justified. Eventually, I realized that I was spending way too much time critiquing my body, and not nearly enough time appreciating it or loving it or even using it to do the things that I love. It's taken some time, and I feel like it's still a process, but I've developed a mindset that has allowed me to embrace my postpartum body.
Recently, a friend of mine had a baby and was feeling some of the same resentful feelings towards her own body that I felt towards mine. Having been through the same emotions, I offered her my own perspective. "You need to write that down," she told me as I could already see the relief in her face. So, I did. The following nine things are a result of that advice, and have no doubt helped me fall in love with my postpartum body (despite thinking for a very long time that I would never again wear anything other than yoga pants). If you're struggling with your postpartum body image, my hope it that these things will help you, too.