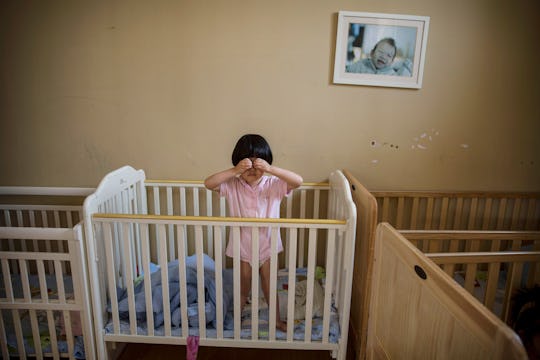 Kevin Frayer/Getty Images News/Getty Images
9 Ways You Can Help A Mom Who Is 'Crying It Out'
The idea of a full night's rest is every parent's dream, but obtaining that rest can be difficult, to say the least. Many parents find success with the "cry it out" method, but not everyone is on board with the idea of allowing a baby to self soothe. While it's completely understandable that we would all have differing opinions, we also need to support one another because, well, parenthood is hard all the way around. There are things you can do to help a parent practicing "crying it out," whether it's your particular method of sleep training, or not.
Countless studies have confirmed that the "cry it out" method isn't harmful to children, when practiced correctly. Of course, every parent has a right to their opinion, and not everyone feels comfortable with this particular method, which is fine. What works for one family might not work at all for another. That pertains to parenting in general, but in my family's own experience, the "cry it out" method worked wonders. That's not to say that we didn't occasionally struggle with letting our son cry it out, because we definitely did, but we committed to the method and, as a result, we have two amazing sleepers who let us get some amazing sleep so, for us, the "cry it out" method is amazing.
I have a lot of friends who are also parents, and we don't all share the same methodology when it comes to getting our babies to sleep, but we definitely all have the same goals in mind. Though my family's methods have been ridiculed from time-to-time, I'm thankful to have a group of friends who support me, even when they don't necessarily agree with me. With them in mind, I've compiled a list of some things you can do to help a mom who is practicing "crying it out," because don't we all need more sleep?