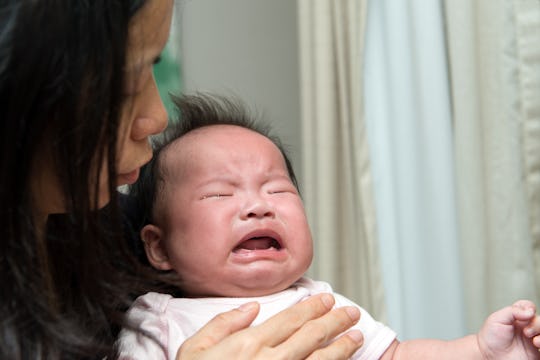 Fotolia
93 Real Thoughts That Rolled Through My Mind When I Couldn't Stop My Baby From Crying
Everything seemed to be going so well on that beautiful, crisp Tuesday afternoon. The morning was relatively effortless and my 3-month-old baby boy was content and it seemed like I was going to have one of those magical days that made me feel like I had mastered motherhood. Silly, silly me. Suddenly and out of nowhere, my son started crying and I found myself at the mercy of an endless barrage of thoughts that rolled through my mind when I couldn't stop my baby from crying. Nothing I seemed to do or say or change or even wish, could keep him from wailing at, honestly, a pretty impressive decibel.
My "perfect," beautiful day was spiraling out of control and I was at the mercy of a tiny newborn and his (very healthy, I might add) set of lungs. How in the hell did this happen? Why in the hell was this happening to me? Don't get me wrong, initially I wasn't thinking about myself. I was concerned as to why my son was crying and set out to discover the cause and rectify the situation as quickly as possible. The only problem? There didn't seem to be any discernible reason why he should be even remotely unhappy. He wasn't wet and he didn't poop and he wasn't hungry and he wasn't hurt so why, oh dear god why, was he crying? The family cat wasn't bothering him and there wasn't a loud, sudden noise to startle him. One minute he was perfectly happy, and the next minute you would have thought the world was ending and he was the first to know.
A million thoughts ran through my mind as I held my extremely discontent child in my arms, unable to soothe him. Well, not a million thoughts, more like 93 thoughts. Actually, probably closer to 150, but so many of the thoughts I entertained were laced with a few too many expletives that have no business being repeated, so I'll just say 93 and call it a day. I'd like to think I'm not alone in thinking the following things, but either way, I can tell you they helped. Sure, my "perfect" day ended up being a freakin' disaster, but it provided me with a few, rather entertaining, notions.