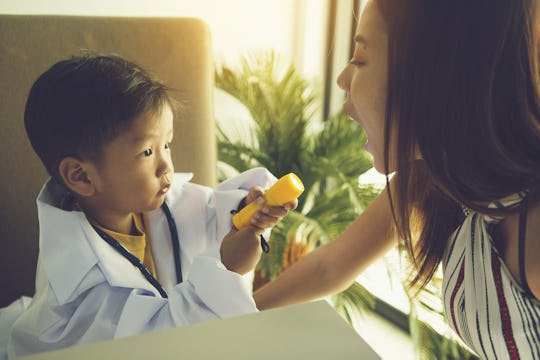 boonchok/Fotolia
A Mom's Fool-Proof Guide To Surviving Being Sick When You Have Kids
Parents don't get sick days, but wouldn't it be nice to call in when you have a fever, aches, chills, and can't keep anything down? Then again, if you're anything like me, there's no one to call. So in lieu of actual rest and a babysitter you keep on retainer, I've discovered and/or developed 10 hacks for surviving being sick with kids. Yes, yes. You're welcome.
Something I never understood when I was a kid was that parents never ever get the rest they need. I, for one, had such severe pregnancy-induced insomnia with my first that I was looking forward to the sleep I thought I'd get once the newborn arrived. Ha. That newborn? Yeah, they had colic. That same newborn is now 8-years-old and still crawling into bed with me every night. And the lack of quality rest that's par for the parenting course is quadrupled when parents are sick.
While I don't know your life, dear reader, I'm going to go ahead and assume you don't live with someone who will lock your bedroom doors and completely parent your children for you — while simultaneously pretending you're not even in the house— so that you can recover from your illness. Which sucks, because the only thing that brings someone comfort in times of sickness is crawling underneath the covers, folding yourself into a tiny ball, and alternating between naps and easy-to-digest television. How can I do that with one kid, let alone three? They need mama, not a whimpering, shushing, sopping-mess of a walking snot bubble.
To be honest, I haven't gotten it all figured out yet, but I'm committed to finding all the life hacks that will make my inability to call in sick from parenthood somewhat bearable. Perhaps the following hacks will help you survive, too.