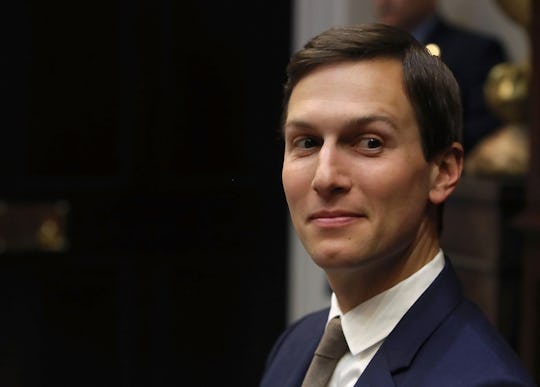 Mark Wilson/Getty Images News/Getty Images
Here's What We Know About Jared & Joshua Kushner's Relationship
Last month, supermodel Karlie Kloss took to social media to reveal that boyfriend Joshua Kushner popped the question after six long years of dating. The engagement news had Kloss's fans reeling with joy, but also propelled Jared Kushner's younger brother into the spotlight. And there's one big question that seems to be on everyone's mind: Are Jared & Joshua Kushner close? The high-profile brothers seem to have markedly different personalities and viewpoints, but their bond is not as defined publicly.
Not much about their relationship as siblings is revealed through social media. A scan through Joshua Kushner's Twitter and Instagram accounts yields little results, except for this photo of the brothers taken last year in front of President John F. Kennedy's portrait in the White House. Older brother Jared, who serves as President Donald Trump's senior adviser and is married to first daughter Ivanka Trump, doesn't have a presence on social media, so there's no easy way to track online his view of their brotherly bond.
What is known, though, is that Jared and Joshua Kushner have some political views that are at odds with each other. Joshua, who co-founded the health insurance start-up, Oscar Health, is openly liberal, while Jared's politics come across as murky, at best.
Joshua, for example, has been an outspoken advocate against gun violence, reportedly donating $50,000 to the student-led movement, March For Our Lives, according to Huffington Post. March For Our Lives was founded in late February by a group of students who survived the Valentine's Day mass shooting at Marjory Stoneman Douglas High School in Parkland, Florida, which killed at least 17 people and wounded dozens of others. Joshua was also spotted at the March For Our Lives protest that took place in Washington, D.C. on March 24, Huffington Post reported.
But that's not the only activist march Joshua attended. The younger Kushner and Kloss's betrothed was also photographed at the Women's March last year, according to New York Magazine, although at the time, he insisted he was "observing" the protest.
Jared Kushner, on the other hand, has confused Democrats and Republicans, alike, according to Business Insider. Kushner seems to align more with centrist ideals, but is reportedly considered "one of the Democrats" in Trump's inner circle of political aides, Business Insider. And his role in the White House has allegedly worried his left-leaning friends.
But that was last year. A scathing report published by The New York Times last month paint Jared and his wife, Ivanka, as a political power couple who has remained silent on basically every single issue that has plagued the Trump administration, such as family separations and the country's gun violence epidemic, according to Refinery29.
Of course, a difference in politics doesn't mean two brother cannot remain close. In fact, there are many friends and family members who share a tight-knit bond despite their diverging political view points. And because neither Kushner reveals much about their relationship publicly, it's difficult to know whether or not that's true in their case.
Still, Forbes did described Jared as Joshua's "best friend" in a profile on the Oscar co-founder that ran last year. Joshua told Forbes at the time that he and Jared "still speak every day," while Jared, in an email, told the outlet that he has "learned so much from watching Josh grow" his venture capital investment firm, Thrive Capital, and "how he thinks about investing."
At the very least, it seems Jared and Joshua Kushner have somewhat of a close connection, and it's one they seem to keep private. And only time will tell if that will ever change.