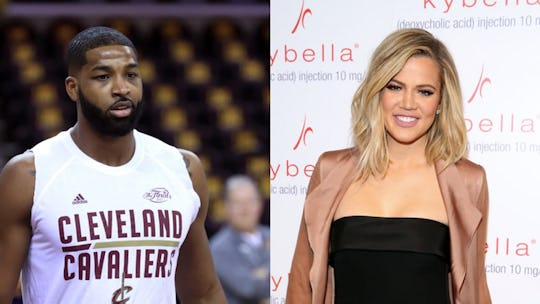 Ronald Martinez/Getty Images Sport/Getty Images/ Cindy Ord/Getty Images Entertainment/Getty Images
Khloé's Latest Appearance Might Be A Major Clue About Her Relationship Status With Tristan
Despite the drama, it looks like Khloé Kardashian is still a Cavs fan. On Wednesday, June 8, Koko went to the Cleveland Cavaliers game in Ohio (while wearing full team gear) to cheer on her boyfriend, Tristan Thompson, as Us Weekly reported. However, just two months ago, shortly before Kardashian gave birth to their daughter, Thompson found himself at the center of an alleged infidelity scandal. Given all the mixed signals, fans are likely wondering: Are Khloe Kardashian and Tristan Thompson still together now?
In case you need a quick refresher — Kardashian gave birth to True Thompson on Thursday, April 12 in Cleveland, Ohio. She had moved to the midwestern town to live with Thompson several weeks earlier. Unfortunately, several days before True was born, the Daily Mail published footage that purported to show Thompson allegedly with another woman the week before their daughter was born. Shortly afterwards, TMZ published additional footage of a man purported to be Thompson with multiple other women, allegedly filmed in October. Romper's requests for comment from both Thompson and Kardashian's reps regarding the cheating allegations were not immediately returned.
So even though there were numerous reports of Thompson's alleged infidelity, Kardashian reportedly forgave her boyfriend and the father of her baby, and she has continued to live with him in Cleveland.
For those thinking Koko should have kicked him to the curb, it doesn't seem like she'll be leaving Thompson, at least publicly, anytime soon. For one thing, her attending his basketball game this week makes it clear that she supports him. Plus she and True are still reportedly living in his Cleveland home, Us Weekly reported. Additionally, in early May, the couple was spotted out at a chill lunch with friends, as TMZ reported. Not to mention, Kardashian made her plans to stick with Thompson pretty clear when announcing True's birth. A few days after True was born, Kardashian made sure to include True's "daddy" in her first Instagram post since giving birth:
Our little girl, True Thompson, has completely stolen our hearts and we are overwhelmed with LOVE. Such a blessing to welcome this angel into the family! Mommy and Daddy loooooove you True!
All that being said, there are also a few pieces of pseudo-evidence that could point to a relationship on the rocks. For one thing, shortly after the news of Thompson's alleged infidelity broke, an anonymous source (so take this with a grain of salt) told Us Weekly, "She doesn't know how she's going to rebuild trust in him. She knows her family and friends aren't supporting him or her right now."
Plus, Kardashian subtly acknowledged the scandal last week, at least that's how fans have interpreted it, after her brother-in-law Kanye West's dropped his new album, Ye. In response to the seven-song album, Kardashian simply tweeted:
Now, how on earth is that tweet relevant to all this? Well, on West's song "All Mine," a lyric mentions Thompson by name, and subtly acknowledges the cheating allegations. As transcribed by Genius, West raps:
All these thots on Christian Mingle / Almost what got Tristan single / If you don't ball like him or Kobe / Guarantee that bitch gonna leave you
The implication of that demeaning lyric, as Genius described, is that if a man cheats on his partner, she will leave him — unless he is a rich and talented basketball player. Kardashian did not comment any further than the three fire emoji, so she either had yet to listen to the song when she tweeted that, or she approved of his lyric, which seems to indicate she does not plan to leave Thompson.
With all the conflicting "evidence" out there, Kardashian's appearance could very well have been a public relations move, in an attempt to troll the media and fans for their prying eyes into relationship. But no matter what her appearance at the basketball game means, it's clear that she is so happy to be True's mom.