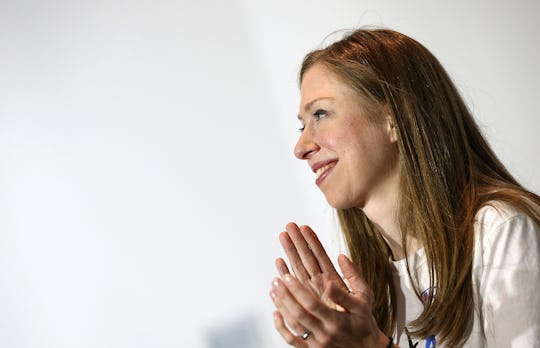 Win McNamee/Getty Images News/Getty Images
Chelsea Clinton Says Criticizing Ivanka Trump Is "Fair Game" & Here's Why She's Right
Although she often comes to the defense of people criticizing the children in the White House, Chelsea Clinton said that criticizing Ivanka Trump is "fair game" during an appearance on Late Night With Stephen Colbert Monday night. In the past, the former first daughter has tweeted for people to just be kind to other first kids, like when people mocked 10-year-old Barron Trump on Inauguration Day or when pictures of Malia Obama smoking circulated the internet.
But Ivanka is different for Clinton, and she makes a good point. Like her childhood in the White House, Barron, Malia, and Sasha, among other "first kids," were growing up in the Oval Office. Not working in it. Ivanka holds an "unofficial" advisor position in her father's administration, which includes attending meetings with foreign leaders, and going to the Olympics this year to represent the U.S. delegation.
If it's unofficial, she really does have a ton of responsibility, and she's often criticized on social media for being complicit in her father's administration and furthering his policies. She's not just laying around in the Rose Garden or picking out china patterns for state dinners. Ivanka (and her husband Jared Kushner) are active members of the administration, and therefore, can be criticized.
Clinton told Colbert, "I think anyone who works for the president should expect to be scrutinized for whatever decisions not only he or she is making, but whatever decisions the White House is making on any given day."
Because family working for each other in the capitol should really not be part of a democracy — that's kind of a monarchial or dictatorial thing to do. If Ivanka has an active role in the White House, then she's "fair game" for critics, as Clinton said, just like every other advisor or Cabinet member.
People On Twitter Agreed With Her...Kind Of
This is not the first time Clinton has pointed out that Ivanka's White House role is very different from the ones that other presidents have given their children, including her mother. When Ivanka sat in for her father last year at the G20 Summit, people were rightfully peeved. If she's an "unofficial" member of the team, than sitting with world leaders is sort of crossing the line, right?
After his daughter drew criticism for attending the summit, Trump angrily tweeted, "If Clinton were asked to hold the seat for her mother, as her mother gave our country away, the Fake News would say CHELSEA FOR PRES!" Chelsea tweeted back at the president, writing, "Good morning Mr. President. It would never have occurred to my mother or my father to ask me. Were you giving our country away? Hoping not."
It's a strange situation for Ivanka to be in, to be sure. She's always worked for her father and those close to the family insist that Trump has tons of faith in his daughter's ability to run his businesses, which now also includes the country. But Ivanka doesn't get to pick and choose when she's a daughter and when she's an "unofficial" advisor to her father. Last month in an interview with NBC in South Korea, Ivanka was asked about whether or not she believed the 19 women accusing her father of sexual assault and harassment, as Newsweek reported. Ivanka was clearly agitated as she replied:
I think it's a pretty inappropriate question to ask a daughter if she believes the accusers of her father when he has affirmatively stated that there's no truth to it. I believe my father. I know my father. So I think I have that right as a daughter, to believe my father.
She's right — that might be an inappropriate question to ask a daughter. But asking someone who clocks in for work every day at the White House about the scandals whirling around it is what a journalist should do. Chelsea Clinton's right about it being fair to scrutinize Ivanka, if only because she's not the kind of "first daughter" Americans are used to. The Trumps can't have it both ways.
Disclosure: Chelsea Clinton's husband Marc Mezvinsky joined Social Capital, an investor in Bustle Digital Group, in mid 2017 and joined the Board of Bustle Digital Group in early 2018.
Check out Romper's new video series, Romper's Doula Diaries:
Watch full episodes of Romper's Doula Diaries on Facebook Watch.