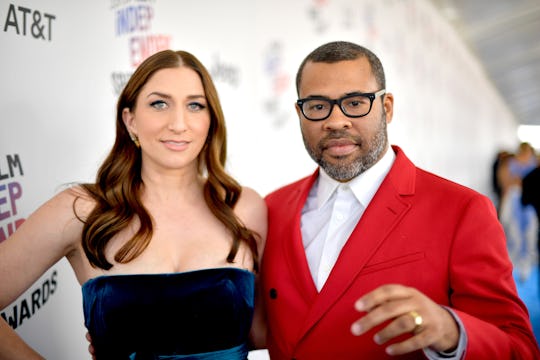 Matt Winkelmeyer/Getty Images Entertainment/Getty Images
Chelsea Peretti's Post About Pumping At Award Shows Proves All Moms Deserve An Oscar
This award season has been very busy for Jordan Peele, the genius behind the Oscar's Best Picture nominee Get Out. Which means lots of public appearances with his wife and actress, Chelsea Peretti, who just so happens to be breastfeeding at the moment. Always super relatable, Chelsea Peretti's latest post about pumping her breast milk at the Independent Spirit Awards leading up to the 2018 Oscars is so, so relatable.
Peretti is a comedian, which makes all of her parenting posts all the better. She often posts about the good and bad sides of parenting and has been especially visible about her breastfeeding and pumping. During the Golden Globes, some people called Peretti out for checking her phone and tuning out. The Brooklyn Nine-Nine star later clarified that she was only checking the time to keep up with her pumping schedule. And then she had to go do it in the bathroom, of all places.
During the SAG Awards in January, she also posted about having to pump during the awards, with a selfie of herself in a random bathroom. She was also relegated to some random place to pump at the Independent Spirit Awards on Saturday, too. Peretti posted a picture of her breast pump on a cluttered table full of weird food items.
It's incredible that these award shows don't have nicer spots for women to pump or breastfeed in other than dingy bathrooms and trailers full of leftover food, though the comedian at least has a sense of humor about it. Peretti wrote:
Oh! Forgot to post where I pumped last night...someones trailer — I dont know who — who is an interesting eater. High volume & fragrant but not high completion rate. Not pictured: cut avocado w one spoon out of it. Who does that? A savage.
At least she has a bit of a sense of humor about it. Peretti added that she was working on getting her EGOT in pumping, a reference to the holy grail of awards for celebs. (It stands for "Emmy, Grammy, Oscar, and Tony" awards and only a select few celebs have gotten all four.) Peretti joked:
(Working on getting the EGOT of pumping locations.) It will be my great honor to pump tonight at the Oscars. hope breastmilk really is beneficial to the bb .........................I do it all for that lil angel.
People were loving her realness about pumping. One fan wrote, "You are literally my favorite. And you pump. So relatable. You keep it real." Another added, "Our babies are of similar age and your awards circuit pumping pics help keep me going!!" Others offered words of support, like one fan who wrote, "You're awesome. I exclusively pumped for 5 months before having to stop. It's not easy. go mama!"
Still others were confused about the accommodations. "I can't believe they don't have a lactation room in any of these theaters. For eff sake," they wrote.
Hopefully the Oscars has a better setup for her than some trailer with old pasta and open avocados. (Really though, who eats an avocado like that?) New moms everywhere have to deal with terrible pumping and feeding conditions all the time, so it's scary to know that the rich and famous women of the world have to put up with it, too. In this world, if the wealthy aren't getting perks or treated well, then there's not a whole lot of hope for a not-famous woman trying to find a place to properly pump at Target, like Jessica Alba recently posted about. It's no secret that a woman's body produces milk after she gives birth, would it kill places to have a nice clean room with a comfy chair to do it in? Or even those portable breastfeeding pods?
Hopefully with women like Peretti, Alba, and Mindy Kaling posting all the time about pumping and breastfeeding, others will feel more comfortable talking about it, too. And start to demand better conditions to pump and feed their baby in. People always talk about how much they value the lives of kids and mothers, but not providing them with comfortable accommodations to women so they can feed their child or pump their milk is no way to honor them. Come on, Oscars and other award ceremony organizers — be better next time. If only for Chelsea Peretti.
Check out Romper's new video series, Bearing The Motherload, where disagreeing parents from different sides of an issue sit down with a mediator and talk about how to support (and not judge) each other's parenting perspectives. New episodes air Mondays on Facebook.