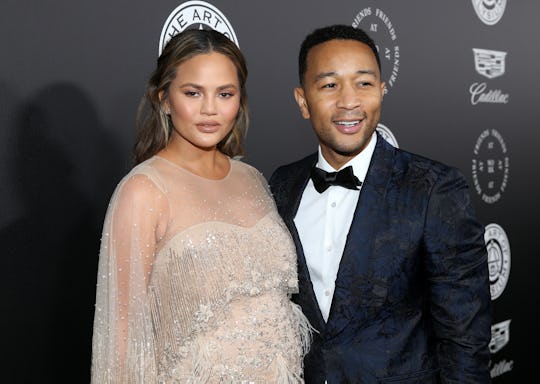 Phillip Faraone/Getty Images Entertainment/Getty Images
Chrissy Teigen Brilliantly Trolled A Fan Who Asked For Pictures Of Her Baby
If I could only follow one person on social media, I would probably pick Chrissy Teigen. Not only would Queen Teigen keep me in the loop on politics, her family, and her cooking adventures, but she is constantly roasting her haters (and sometimes, her lovers) on Twitter and Instagram, to hilarious effect. Case in point? The comments section of her latest Instagram post, where Chrissy Teigen brilliantly trolled a fan who asked for pictures of her baby.
On Wednesday, Teigen baked some cornflake marshmallow and fruity pebble crunch cookies for her friends, Tracey Cunningham, a hair stylist, and Monica Rose, a fashion stylist. Naturally, Teigen's lovely assistant, her 23-month-old daughter Luna, was on hand to help. And by help, I mean sit on the counter and taste test the final product (aka what I do when my friends ask me to help them bake). Teigen Instagrammed an ultra-adorable photo of Luna posing with a cookbook and mixing bowl full of ingredients, and the comment section is filled with fans gushing over Luna's adorableness. However, one fan proved to be a bit out-of-the-loop on Teigen's family life. "I wanna see baby pics lol. Have you had the baby yet," the fan commented on the photo, as reported by BuzzFeed.
Using her signature dry wit, Teigen issued the perfect response. As per BuzzFeed, she replied:
Yeah it's right there.
I mean, she isn't wrong — Luna really is right there.
The fan's comment (and therefore Teigen's response) have since been deleted. Perhaps the fan was a little embarrassed to not only have been trolled by Chrissy Teigen herself, but to also have realized that the celebrity mom is still pregnant with baby no. 2. In fact, she isn't due for another three months! She revealed that she is due in June on The Ellen Show last month. "I'm having a baby boy in the spring. I'll tell you — it's June!" she told Ellen DeGeneres.
Teigen first announced that she and husband John Legend were expecting their second baby back in November 2017, with an adorable Instagram video of Luna and her mom's baby bump. The couple then revealed that they were having a baby boy in late January. Teigen shared the news with an Instagram post of herself showing off her bump at the Grammys, captioned "mama and her baby boy."
Since announcing her pregnancy and her baby's sex, Teigen's social media clapbacks have only gotten stronger. Last month, when John Legend shared a photo of himself carrying Luna, a troll commented "She need no legs then," adding that they were tired of seeing photos of the couple carrying baby Luna. Teigen caught wind of the critical comment, and fired back. "Are you so tired of it does it make you so sad and upset?" Teigen replied. "What can we do for you to make it better, sweet angel."
And in January, a photo Teigen posted of her and Luna going down a playground slide sparked a similar uproar. Many commented critiquing the mother and daughter's positioning, suggesting that Luna could have broken her legs. Teigen issued a flawless response, writing:
Wish you guys would have told me about the leg thing earlier. They broke. Both of them. And everyone else's in the park broke too just from watching it happen. There are so many broken legs here (heads up photos are a one second moment in time, I was lifting her onto my lap)
The internet loves a good Chrissy Teigen clapback, and as long as trolls keep being trolls, it doesn't seem like the mom will stop trolling them right back anytime soon.
Check out Romper's new video series, Bearing The Motherload, where disagreeing parents from different sides of an issue sit down with a mediator and talk about how to support (and not judge) each other's parenting perspectives. New episodes air Mondays on Facebook.