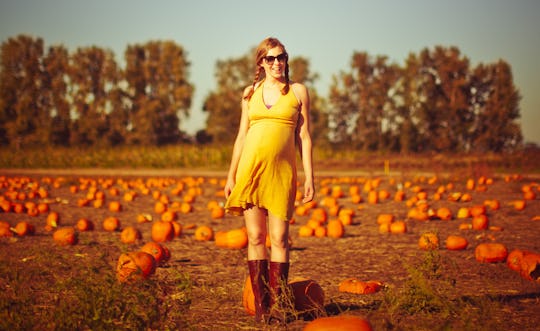 RyanJLane/E+/Getty Images
These 16 Halloween-Themed Maternity Shoot Ideas Are So Stunning It's Spooky
Being in your last trimester in the fall means you were pregnant through the sticky summer, and for that, I salute you. To commemorate making it to the other, less sweaty side of the year, you may want to *trick-or-treat* yourself to a Halloween-themed maternity shoot.
The beauty of doing your maternity photoshoot around the year's spookiest holiday is that you have so many amazing options: you can go for a more traditional, glam look and wear a long dress while posing outside in the gorgeous fall foliage. You can really get into the Halloween spirit and don a costume that shows off your baby bump (an avocado with a belly as the pit is my fave, but the options are endless.) Or you could take advantage of the cozy flannels and oversized sweaters — a true blessing during pregnancy — and snap your pics in a pumpkin patch on a day when the crisp, clear weather is on your side. If you're a scary movie lover, you can even pick up some props and opt for an eerie photoshoot which may seem odd in say, April, but is totally cool in October. Lucky you!
A maternity shoot is a special way to honor those last few months of pregnancy and your child will love seeing the pictures when they're a little older. Read on for 16 Halloween maternity shoot ideas, witch hats and pumpkin patches totally optional (but definitely encouraged).