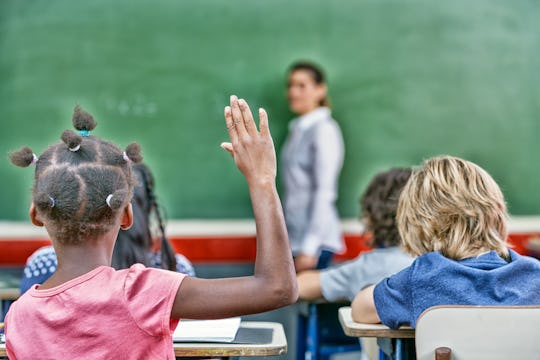 GagliardiImages/Fotolia
I Went To My Kid's Elementary School & Learned To Tell The Difference Between Breastfed & Bottle-Fed Kids
Hey guys, I don't know if you know this, but there's a real debate about breastfeeding versus formula feeding babies. Among a group of 10 moms, it's not unusual to find 11 different opinions on the subject. Of course every parent wants what is best for their child, but the question remains: are there differences between kids who are breastfed and bottle-fed? Moreover, are there long-term differences?
I've always fallen firmly on the side of "no." I mean, I have a 6-year-old son and a 3-year-old daughter. My son was combo-fed (breast milk and formula), my daughter was exclusively breastfed and, aside from different personalities (which, I am led to believe, is common among all humans literally everywhere) I don't notice any tremendous developmental or physiological differences between them. When watching them with their peers, I couldn't begin to tell you who among them was breastfed or bottle fed. (Or, for that matter, who was worn in a wrap or pushed in a stroller, who was cloth diapered, who went to daycare, or which ones had how much screen time.)
But on a recent trip to my son's first-grade class, I ran into someone who ever-so-kindly set me straight.
Delilah Richardson-Turnbluth* is the mom of one of my son's classmates. We were both volunteering at a school book fair and had been assigned to staff a table together. The other parents gave us wide berth. I thought I saw one mom mouth "Run!" to me, but I couldn't be sure.
"Hi," I said as I sat beside her. "I'm Jamie."
"Did you breastfeed your child?" she asked. This caught me off-guard, mid-handshake. Flustered, I tried to take back my hand, but she, weirdly, wasn't letting go.
"Ummm... yeah. Both of them," I replied.
"For how long?"
"Huh? Uh, 17 months and 21 months apiece."
She squinted and looked into my eyes.
"That's under the World Health Organization's recommendation of at least 2 years," she informed me, but then let go of my hand and smiled. "Still, sadly I've heard worse. Welcome."
At that very moment, a child tripped in front of our table. As I stood to assist them, Delilah rolled her eyes. "Obviously bottle-fed." I was gobsmacked.
"Wait, what?! Are you serious? That's not something you can tell just from looking at a child." Delilah threw her head back and laughed. You know the way Maleficent laughs in Sleeping Beauty when she does something particularly evil? Yeah, it was like that.
Everyone noticed and the sympathetic gazes I received were palpable.
"Oh Joanie..." she said.
"It's Jamie."
"Oh you have so much to learn, Janet."
And here, my friends, is what this gem had to teach me: