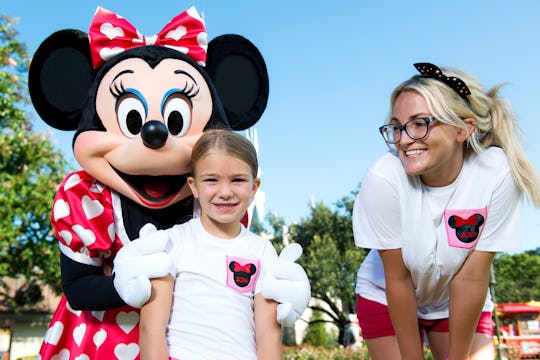 Handout/Getty Images Entertainment/Getty Images
Maddie Aldridge Appears To Have Made Full Recovery
After a scary ATV accident that resulted in a five-day hospital stay for Jamie Lynn Spears' daughter, Maddie appeared on the red carpet at a Planet Hollywood event Monday. Little more than a month after the 8-year-old accidentally steered the all-terrain vehicle into a pond and ended up submerged for about two minutes, she's 100 percent recovered and totally rockin' it. At the event — which was a quick photo op for fans to go nuts over her aunt, pop legend Britney Spears — Maddie posed alongside her cousins, looking as though nothing traumatic had ever happened. And, even after her mom provided regular social media updates of her steady progress, it was great to see.
Britney Spears had her family in tow when she made the brief red carpet appearance to celebrate the opening of the Planet Hollywood Observatory restaurant at Disney World in Orlando. In a video clip of the event, Maddie is all smiles as she shows off a teddy bear and keeps hold of the hand of her cousin, 5-year-old Lexie. Jamie Lynn Spears was also in on the family fun, along with Britney Spears' sons, Sean, 11, and Jayden, 10, according to People magazine.
It's certainly the happiest outcome the family could have hoped for Feb. 5, when Maddie was airlifted to a children's hospital in New Orleans after the crash on her family's property in Kentwood, Louisiana.
The terrifying ordeal had the family requesting thoughts and prayers from fans, as the little girl was initially unconscious for days and it was unclear whether she would suffer permanent brain from the near-drowning. By Valentine's Day Feb. 14, though, she was well enough to visit her class at school to pass out holiday treats; soon after, she was back to practicing basketball with her team. And before the end of the month, her country singer mom had informed her concerned Instagram followers that Maddie was back to her regular routine.
Although Jamie Lynn Spears was on the ball about providing regular updates on her daughter's recovery, she didn't speak out at length on the matter until about a week ago. Then, she posted an Instagram photo of Maddie holding her baby cousin and expanded on her oft-repeated sentiment of gratefulness to God. "A month ago, at this time, I was living a mothers/anyones worst nightmare happening right infront of my eyes, helplessly...." she wrote.
In the sweet snap, Maddie looks happy and healthy, a fact not at all lost on her thankful mom. She continued:
Fastforward- Today, we were able to celebrate the baptism of our sweet Kylie Blair. I'm not one to preach, but we were shown God's grace, and we still feel undeserving of His mercy. I'll never stop thanking each of you for your prayers, because we recognize the miracle it created. We are beyond blessed, and we will NEVER forget y'all, and God's unbelievable mercy ❤️🙏🏻❤️🙏🏻 #Godisgood
And it certainly does seems as though someone or something was watching over the little Maddie to get her back to events like the one at Disney Monday — and to spending time with her family in general.