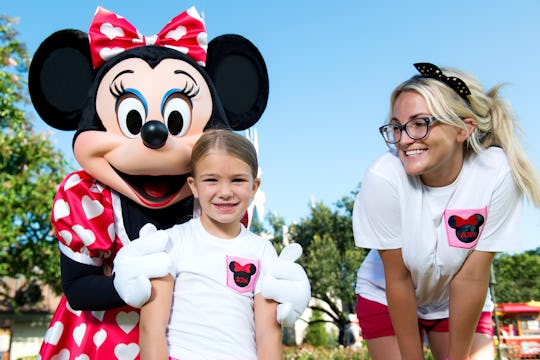 Handout/Getty Images Entertainment/Getty Images
Jamie Lynn Spears' Selfie With Maddie Is Too Cute
A few weeks after a scary ATV accident that left her 8-year-old daughter hospitalized, country singer Jamie Lynn Spears shared a selfie with Maddie, another welcome reminder that the child is, amazingly, fully recovered. The adorable Instagram post features three generations of Spears women, as Spears' own mother, Lynne Spears, also joined in on the Ash Wednesday fun. And looking at the smiling Maddie nestled between her mom and grandma, all three of them sporting prominent ash crosses on their foreheads, you'd never know that her family had very recently been asking the public for thoughts and prayers as they worried about how the incident would affect Maddie long-term.
Spears tagged the Instagram post, aptly, "#Godisgood." It's one she employs frequently on social media, but the sentiment of thankfulness must be one that's especially meaningful for her since Maddie's ordeal. On Feb. 5, the 8-year-old steered the all-terrain vehicle she was riding on her stepfather's Kentwood, Louisiana, property into a pond when she overcorrected to avoid a drainage ditch. Trapped and submerged underwater for about two minutes as family members worked frantically to free her, she was soon airlifted to Children's Hospital in New Orleans. Five days later, on Feb. 10, she was allowed to go home.
It had been a tense, undoubtedly nerve-wracking period for the family. Spears' sister, pop legend Britney Spears, urged her Instagram followers to keep praying for her niece; The family was not certain that Maddie would not have permanent brain damage. Miraculously, she doesn't, and was even able to stop by her school on Valentine's Day, Feb. 14, to pass out holiday treats to her classmates — even if she wasn't quite ready to head back to school just yet. But that wasn't the case for long: She was practicing with her basketball team again soon after, and, on Saturday, Spears announced via Instagram that Maddie was "fully recovered" and back to her regular routine.
The whole situation really underscored how much the family leans on their faith. At one point, the situation reportedly seemed so dire (Maddie was, after all, unconscious for two days after the accident) that Spears and Maddie's father, Casey Aldridge, prayed together over her, even though they split in 2010. Considering how much they value prayer, it's certainly fitting that a photo of Maddie enjoying Ash Wednesday would be among the first batch of images of her to hit the internet after her recovery.