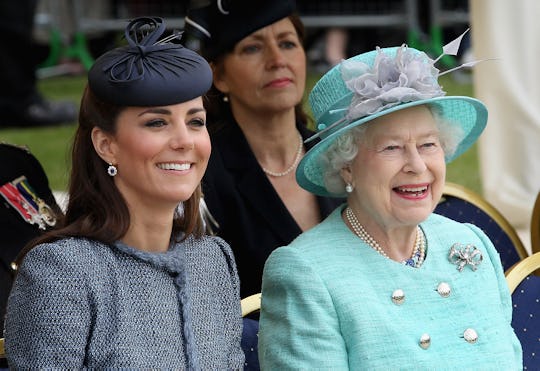 Chris Jackson/Getty Images Entertainment/Getty Images
Kate Middleton Quotes About Queen Elizabeth Are So Sweet
One of the most nerve-wracking things about starting a serious, long-term relationship is meeting family members. And not just meeting them, but also striking up conversations and building relationships with your significant other's loved ones. Now imagine the anxiety when you're becoming a part of the British Royal Family — it has to be through the roof. But these Kate Middleton quotes about Queen Elizabeth show that the Duchess of Cambridge and Her Majesty have a special bond that started from the beginning.
Middleton and the Queen have always come across as amicable, and even quite loving towards each other. The pair are often smiling and laughing whenever photographed in public together. They also tend to speak warmly of each other: Middleton has described Queen Elizabeth as a "doting granny," while the Queen has expressed absolute delight when the Duchess of Cambridge gave birth to her third child, Prince Louis Arthur Charles, with the monarch eldest son, Prince William.
But don't take my word for it: Just read these quotes that Middleton has said about her grandmother-in-law. It's clear that the Duchess of Cambridge has made quite the impression on the Queen, and that they now share a close relationship.
The First Meeting
In public, Middleton and Queen Elizabeth get along quite well, and it seems that has been the case from the beginning. The Duchess of Cambridge has said of the Queen upon their first meeting, according to Pop Sugar:
I first met [the queen] at Peter Phillips and Autumn [Philipps]'s wedding . . . it was in amongst a lot of other guests and she was very friendly.
Thoughtful Gestures
In the 2016 documentary, Our Queen at Ninety, honoring Her Majesty's 90th birthday, Middleton talked about making marrow chutney for Queen Elizabeth, based off of an old Middleton family recipe. The Duchess of Cambridge worried that it wouldn't over well, but instead, it was a hit.
She said in the documentary, according to Town & Country:
I was slightly worried about it, but I noticed the next day that it was on the table. I think such a simple gesture went such a long way for me and I've noticed since she's done that on lots of occasions and I think it just shows her thoughtfulness, really, and her care in looking after everybody.
How absolutely sweet.
A Source of Support
Later in the special, the Duchess of Cambridge recalled "the most memorable" engagement and how the Queen was a strong source of support. She said, according to OK!:
The most memorable engagement for me was an away-day to Leicester. I went without William, so I was rather apprehensive about that . . . . She was very supportive. The fact she took the time to make sure that I was happy and looked after for that particular occasion, which probably in everything that she's doing is a very small element, it shows just how caring she is really.
Family Love
Middleton also recalled in the documentary how Her Majesty fell in love with Princess Charlotte immediately. The Duchess said, according to The Telegraph:
The Queen, she was really thrilled that it was a little girl, and I think as soon as we came back here to Kensington, she was one of our first visitors here. She always leaves a little gift or something in their room. That just shows, I think her love for her family.
The Queen has always seemed loving towards her family, so it's no surprise that the monarch would display her affection in such a way.
"A Gentle Guidance"
The Duchess of Cambridge has made her fair share of public appearances since becoming part of the royal family. And it seems that the Queen has been an important part of helping her prepare for each engagement.
In that same special, Middleton said of the Queen, according to E! News:
She's been very generous and not sort of being forceful at all in any of her views. I feel she's been sort of a gentle guidance, really, for me.
Queen Elizabeth and Middleton seem to have a close relationship, which comes through in the way the Duchess of Cambridge speaks about the Queen. And, honestly, it's so wonderful that they could have such a special bond.