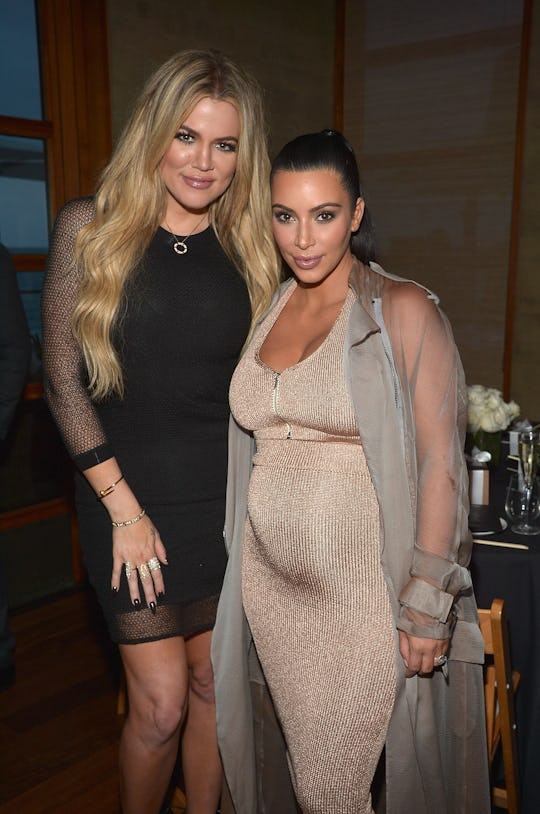 Charley Gallay/Getty Images Entertainment/Getty Images
Kim K. Says Khloé Is "Freaked Out" As She Prepares To Give Birth, & Moms Can Definitely Relate
No matter how many baby books you read or how many times you watch your nieces and nephews, becoming a parent is totally nerve-wracking. And that's something Khloé Kardashian is apparently experiencing right now as she's just days away from her due date. In fact, her sister Kim Kardashian said that Khloe is "freaked out" as she prepares to welcome her first child, a baby girl, and honestly, who could blame her?
As a mom of three, it's no surprise that 37-year-old Kim has plenty of advice for her younger sister as she prepares to become a first-time mom. But Kim also revealed that there are just some things that Khloé will have to learn along the way. At the launch party celebrating her upcoming makeup line, KKW Beauty x Mario, Kim explained that she's loved being able to be there for her younger sister. "Khloé and I have a really good thing going on right now," she explained in an interview with Entertainment Tonight. "I'm like the real one with her [about] what goes down and how it's going to go down."
But, of course, considering just how many changes a woman's body goes through when she gives birth, it's more than understandable that Khloé's reportedly feeling a bit "freaked out," as Kim revealed to Entertainment Tonight. Specifically, Kim explained to the outlet that getting too detailed about some of the nitty gritty details has left her sister feeling a little uneasy.
As Khloé nears her due date and prepares to welcome her daughter into the world, her older sister has learned that she doesn't want to know everything just yet. "You cannot tell her anything right now that's too sensitive because she's just so freaked out," Kim told Entertainment Tonight. "So, I can't really get into the whole, like, nipples and breastfeeding thing. She's just going to have to figure that all out and slowly."
Honestly, though, it's totally understandable that the younger Kardashian sister is a little anxious about all the details that'll follow once she gives birth. Considering that she's about to a mom for the first time, Khloé likely has a lot to figure out in the coming months and weeks, and even days. After all, just being pregnant is a journey in and of itself, and one that Khloé has been very open about. She's admitted, for example, that she's feeling "nervous" about breastfeeding. Responding to a fan on social media, she said, "Oh my gosh lol I'm nervous about breastfeeding. I hear crazy things but I'll fight through it and love it," according to People.
Again, who could blame Khloé for being overwhelmed by all the information out there surrounding pregnancy, childbirth, and parenting in general. Fortunately for Khloé, though, she's seen three of her sisters become moms. Her sister Kim has three children — 4-year-old North, 2-year-old Saint and 2-month-old Chicago —  and Kourtney also has three kids: 8-year-old Mason, 5-year-old Penelope, and 3-year-old Reign. And then there's Khloé's youngest sister, Kylie Jenner, who gave birth to her first child, daughter Stormi, on Feb. 4. So, Khloé probably knows a thing or two about handling kids, even though she'll be a first-time mom, she's gotten some quality practice with her nieces and nephews.
Which is something Kim also referenced in her interview with Entertainment Tonight. "It'll be fine. She knows," she said. "She's seen all of us go through it. She's prepared, but I feel her and I are on a really good communication about everything. I know when to push it and when to... right now isn't a time to freak her out. The closer it gets, you can't freak someone out."
As Khloé prepares to give birth to her baby-to-be later this month (perhaps in the coming days!), fans are anxiously waiting for her to share her own parenting tips, pregnancy advice, and, of course, sweet updates about her baby girl.
Check out Romper's new video series, Bearing The Motherload, where disagreeing parents from different sides of an issue sit down with a mediator and talk about how to support (and not judge) each other's parenting perspectives. New episodes air Mondays on Facebook.