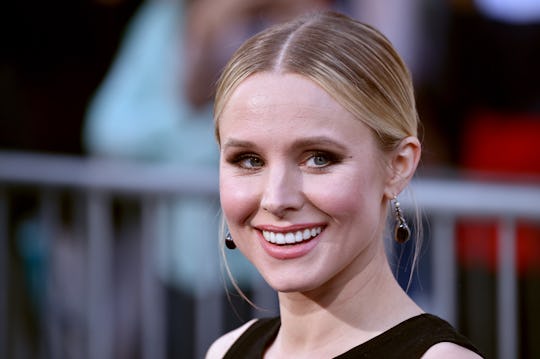 Frazer Harrison/Getty Images Entertainment/Getty Images
Kristen Bell's Motherhood Quotes Are Refreshingly Real
Kristen Bell may have starred in a blockbuster titled Bad Moms, but in real-life she's an attentive, protective mother with a goofy side, just like many other celebrity and non-celeb moms alike. That's why Bell's many quotes about motherhood are both reassuring and spot-on. And as she and husband Dax Shepard promote the upcoming film adaptation of CHIPS, in which they costar, the movie star is once again proving to fans that she's not afraid to be herself — both in protecting her kids and in putting herself first once in a while, too.
Bell and Shepard were together for six years before their low-key courthouse wedding in 2013. Since then, they've become parents to two daughters: Lincoln, 3, and Delta, 2. But just because Bell is refreshingly real and forthright in talking about being a mom doesn't mean she's ready to relinquish her little girls' privacy. In fact, she's been pretty vocal about preventing paparazzi from taking photos of celebrity kids; Fittingly, the first photo she shared of one of them on social media were taken from such a distance that it was impossible to tell which daughter was featured.
But that doesn't mean Bell is no fun — her quotes about motherhood reveal that she's all about infusing a sense of humor into her parenting, even knowing that her decisions often are unfairly up for criticism.
On Her Brief Breastfeeding Hiatus
Case in point: In a recent interview with Access Hollywood, Bell revealed that she had nixed breastfeeding from the schedule for one full day in order to film a scene that shows off her swollen breasts big-time. And her me-first reasoning was glorious:
If Christian Bale can lose 250 pounds for a movie, I can keep from breastfeeding for 24 hours, I literally did not pump for a full day. I told the kids to find some other food, Daddy's making a movie. It doesn't feel great, let me tell you. But I was happy to have a little extra to provide for the transformation.
Obviously, Bell's kids didn't go hungry in the making of this film, but it's great to see how she disregarded what the breastfeeding police would inevitably have to say about this decision and just talk and joke about it.
On Her Discipline Style...
Bell may have been a hit among kids far and wide when she voiced Anna in the instant Disney classic Frozen, but she still has to discipline her own once in a while. Luckily for Lincoln and Delta, the methods she and Shepard us to keep them in line are nearly as delightful as the flick. Here's how she recently described the family's approach to Us Weekly:
We have very strict rules in our family about how we treat people with respect, especially our family members. … We are going to be with each other in the long haul, so it's important to always be respectful and treat your sister the way you want to be treated ... One thing I've learned as a mom is it's really important to monitor when they are able to receive your information. We wait until they calm down and then we talk to them.
...And Just Staying Sane
Just as they discipline together, Bell and Shepard have each other's backs when it comes to keeping track of their little ones, as well. And that's really important for any couple with kids, many of whom likely have a system like that one Bell recently described, according to PopSugar:
My husband and I tap out and take mini meditative breaks because we have two toddlers — they're so f--king loud — and we keep an eye on each other. We'll go "Oh, okay you can take a break; I'll take over." When you're in the ring, you gotta tap out with your partner. That's how we do it.
On Her Family-First Attitude
Being an internationally renowned movie star is great at all (I would imagine), but, for Bell, it doesn't even compare to family. That's why Bell bases her decisions on how they'll affect her family ahead of how they'll further her career. "I always think, if I'm on my deathbed, what am I gonna be thinking about?" Bell said, according to People. "And it won't be some random movie I participated in, or some TV show. It will be my family."
On Her Honest Uncertainties
Lots of women worry about whether they'll bond with their babies — or even struggle to do so once the baby arrives — but talking about that very real struggle is nearly taboo. Not for Bell. In a 2013 interview with Flare magazine, the When In Rome star shared that she wasn't entirely sure how she'd take to her first baby before she met her:
I kept saying to Dax in all sincerity during my pregnancy, "I just don't know how I'm going to like her as much as I like the dogs." I was being serious. Because I f--king love my dogs; they are my children. I love people the more I know them, and I didn't know her. It could've been a water bottle in my belly, that's about how connected I felt to her during my pregnancy. But within about 24 hours after she came out, my hormones reset, and they reprogrammed my feelings about her.
On The Magic Of Motherhood
Bell wasn't always sure she even wanted to have kids. But she ended up deciding to go for it, and she had the most beautiful description of what the experience has been like for her, as she described in a 2015 interview on Today. "Motherhood right-sized everything for me. I'm happier, and I was pretty happy before," she said. "... I can now confirm having them is absolutely unmissable. Having kids feels like that first seventh-grade crush that overwhelms every molecule in your body, but it's permanent."
On Recognizing Motherhood's Challenges, Too
Even so, being a mom can be tough on anyone's mental health, and Bell is the first to recognize that. "Being a mom can be so isolating, and hanging out with other moms is very, very healthy," she said, according to PopSugar.
Just reading Bell's down-to-earth insights about being a mom can make her peers feel a little less isolated as well — especially as they anxiously anticipate the November release of Bad Moms Christmas. So go forth and browse her social media, fellow moms. You'll thank Bell for it later.