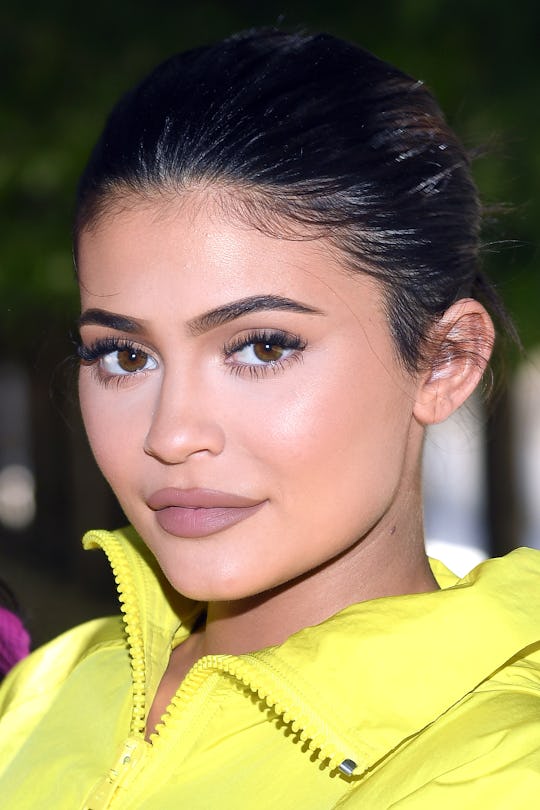 Pascal Le Segretain/Getty Images Entertainment/Getty Images
Kylie Jenner's New Photo Of Baby Stormi In A Bouncy Chair Is The Cutest Thing You'll See Today
Kylie Jenner's been slammed and shamed every which way since welcoming her baby daughter, Stomi Webster, on Feb. 1. It's been enough to make the once-bubbly reality star and cosmetics guru a bit shier on social media, pulling close-ups of her little one's adorable face off Instagram in June after having to read some trolls' rude comments, inappropriate questions about the baby's paternity and, worst of all, rumored kidnapping threats. But she's slowly starting to share more glimpses of her baby girl after a brief hiatus. On Tuesday, for example, Kylie Jenner shared a new photo of Stormi in a bouncy chair and it's enough to make you giddy with delight. And I don't know about you, but it definitely reminded me that time goes by in the blink of an eye, especially with kids, because baby Stormi is getting so big, so fast!
Kylie's first child, whom she shares with Travis Scott, appears to be a source of true joy to her. And the little one is so gorgeous, she's clearly mama's daughter. But it seems that adjusting to motherhood has been a bit of a rocky road for her, mostly due to outsiders who don't even know her. As People reported last month, Kylie's initial eagerness and pride in showing off her bundle of joy in the baby's first days turned to protectiveness after the peanut gallery piped up.
"After Stormi was born, Kylie was the proudest mom," an source reportedly told People in June. "She couldn't wait to show off Stormi to her fans. She posted pictures, because she was so excited to be a mom. Unfortunately, social media is a crazy place... people have been making nasty comments."
After that, understandably, Kylie backed off of feeding the publicity machine and before you knew it, her Insta feed was majorly lacking pics of baby Stormi.
Whatever the trolls and haters say, though, hopefully Kylie can take comfort in knowing that she's not alone and that the rewards of motherhood are far sweeter than anyone else's comments or critique about her on social media. And, well, her most recent Snapchat photo of baby Stormi on Tuesday seems to suggest she's enjoying just that.
Though the photo did not show off Stormi's face, you can see just how big her daughter has gotten in the five months since she was born. Look how she's holding herself up in that bouncy chair!
Earlier this month, Kylie shared another glimpse of baby Stormi, also not totally showing off her face. "My little love," she captioned the sweet photo below of Stormi chilling on her mommy's big-girl bed, gazing at something in the distance.
On the same day in early July, Kylie shared another shot of little Stormi in a white onesie snuggling into her mom's shoulder with the caption, "nothing better."
Though her social media hiatus for Stormi was totally understandable, I'm so glad to see that Kylie is clearly savoring these sweet moments of motherhood. And while the world can't predict when Kylie will share another photo of her baby girl, there is one moment to look forward to: Kylie and her sisters, Khloé and Kim Kardashian, recently put together what could only be described as an epic cousin photo shoot with all three of their baby daughters: Stormi, True, and Chicago.
It seems like Kylie is still working on finding the right balance between being a public and private parent, and how much of her daughter she wants to share with the world. I sure hope Kylie keeps posting more cute new photos of Stormi and does it because it makes her happy, because watching that baby grow, as well as Kylie as a mother, is such a treat.