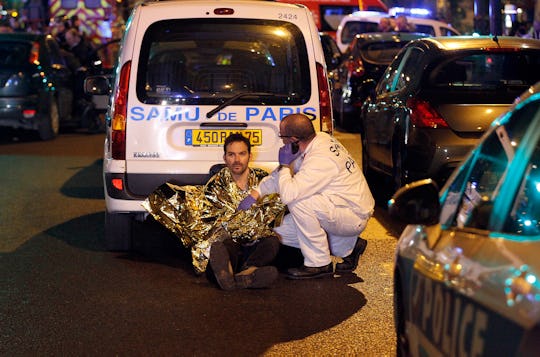 Paris Terror Attack Is The Worst Since 9/11, & The World Stands With France
UPDATE: One day after ISIS has claimed responsibility for the Paris terror attacks, France reportedly launched airstrikes against the militant group in Syria, dropping 20 bombs in the area. Some targets were destroyed, according to reports, but not much else is known about the airstrikes.
One of the suspected suicide bombers has been identified as Ismael Omar Mostefai. Authorities also confirmed that seven of the assailants have died, and the attacks were carried out by three coordinated groups. Paris police, however, are currently hunting for an eighth attacker who may still be at large, who has been identified as 26-year-old Abdeslam Salah.
Officials have confirmed that a police raid in Belgium led to the arrests of seven individuals who may have ties to the attacks.
On Saturday, French president François Hollande has also put the blame on ISIS, calling their actions an "act of war." Said ISIS in a statement released less than 24 hours after the attacks:
France needs to know it still remains at the top of the target list of the Islamic State.
The death toll currently sits at about 130, with over 350 wounded. (One of those killed was an American woman studying abroad in France.) According to French Prosecutor François Molins, nearly 100 of those wounded are critically injured.
EARLIER: With well over 100 people dead following at least six shootings and two explosions Friday night, the Paris terror attack became the deadliest since 9/11 when Al Qaeda operatives crashed two commercial aircraft into the World Trade Center in New York City and hijacked two other planes. According to reports, two still unidentified attackers killed at least 100 people at Le Batalan theatre before being killed by police in a raid. More people are reported dead as a result of earlier shootings and explosions. One shooting was at a Cambodian restaurant. At least two of the explosions were suicide bombs.
The Daily Beast reports that according to Intelecenter, a site that monitors jihadist activity, the apparently coordinated Paris attack Friday night is the 28th attack to kill more than 100 people since 2001. The 9/11 attacks killed 2977, the total death toll for lives lost in New York City, Washington, D.C., and a field in Pennsylvania where one of the hijacked planes crashed.
It's not just the data that show Friday's attack is France's 9/11. Many people on Twitter expressed that sentiment independent of the comparative number of dead.
It's still not known who is responsible for the attacks and some assailants are still considered at large, but the effect on Paris and France at large is already evident. French President Francios Hollande declared a state of emergency. France closed its borders Friday night, and the Paris Metro closed (although it closes at 12:30 am anyway). They turned the lights out on the Eiffel Tower. For the first time since 1944, Parisian residents are forbidden from going outdoors.
The death toll Friday was 10 times that of the Charlie Hebdo attacks in Paris in January, which killed 12 people.
As authorities gather more information, people and governments all over the world have decried the violence expressed their solidarity with Paris. As President Obama told reporters Friday evening,
This is an attack not just on Paris, an attack not just on the people of France, but this is an attack on all of humanity and the universal values that we share.
Update: Over 153 people were killed in the attacks on Paris Friday, CNN reports, in a total of six attacks. A spokesperson for the Paris Prosecutor said that eight extremists are dead, seven killed in suicide bombings.