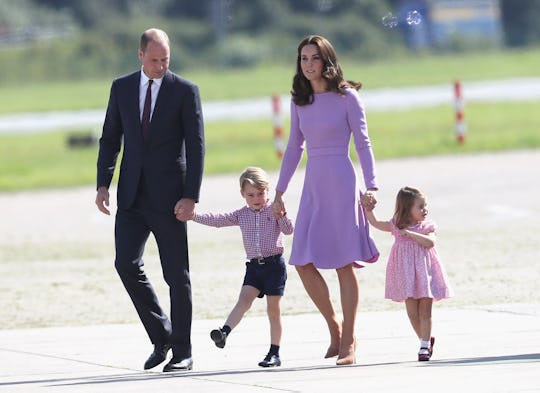 Chris Jackson/Getty Images Entertainment/Getty Images
Prince George & Princess Charlotte Went To Meet Their Baby Brother & The Photos Are *Precious*
Kate Middleton and Prince William are surely wiped out from welcoming their third child this morning. (Middleton much more so than her husband, naturally.) However their two eldest children, Prince George and Princess Charlotte, seem much more relaxed about welcoming their new family member, as they're just coming off from a regular day at school. Photos of Prince George and Princess Charlotte going to visit their new brother are finally here, and they both look super excited — especially Princess Charlotte.
When Middleton gave birth at 11:01 a.m. local time Monday morning, her kids were both likely busy going about their days, oblivious to the news. Princess Charlotte started at Willcocks Nursery School in London in January, while Prince George started at Thomas's Battersea, a private school in London, in September 2017. Prince George's uniform makes it clear that he went to school today, but Princess Charlotte was reportedly home at Kensington Palace while her mother gave birth, according to a tweet by Emily Andrews, Royal Correspondent for The Sun. It must have been pretty exciting when their dad picked them up and took them to visit their mom and new baby brother in the hospital.
Monday afternoon, cameras captured Prince William leaving the Lindo Wing of St. Mary's Hospital in London. In a video shared by Kensington Palace on Twitter, Prince William waved at the crowd outside the hospital and said, "Back in a minute, back in a minute," before hopping into the driver's seat of his car.
About a half hour later, photos emerged of Prince William, Prince George, and Princess Charlotte walking from their car and into the Lindo Wing. As usual, the kiddos held their dad's hands for the short walk. Prince George didn't look particularly enthused, but Prince Charlotte looked over-the-moon excited, with an adorable smile on her face.
She even gave the cameras a wave.
Simon Perry, the chief foreign correspondent for People, managed to film the journey from the car (and its clutch spot) to the Lindo Wing. As seen in the video, the crowd erupted in cheers when each kid emerged from the car, and when Princess Charlotte waved as she went up the steps, the crowd gave a resounding "awww." The whole thing was so wholesome and sweet that even the guard standing outside the Lindo Wing couldn't help but crack a smile.
Side note: can we take a moment to comment on how delightfully wrinkled Prince William's suit looks in these photos? It would have been pretty easy for him to send someone back to Kensington Palace to get him a fresh outfit, but his wrinkled blazer is so much more realistic for a dad who stood by his wife's side as she gave birth just a few hours ago. Way to keep it real, Will! (He was in fact present in the delivery room with Middleton, as Kensington Palace's birth announcement tweet noted.)
Prince George and Princess Charlotte's first meeting with their baby brother seems to have been pretty short. A little more than 20 minutes after Kensington Palace tweeted about the children's arrival at the hospital, Kensington Palace reported that they had already returned home.
Kensington Palace also noted that Middleton and Prince William will be leaving the hospital Monday evening. She only checked into the hospital Monday morning, so this means she will not have an overnight stay.
Perhaps one reason Princess Charlotte looks so happy in the photos is because when her younger brother was born today, she actually made history. His birth is the first time the Succession to the Crown Act 2013, which stated that the royal line of succession will no longer favor male royals, came into play. Previously, the new royal baby would have usurped Princess Charlotte because she is a girl and he is a boy, but thanks to the new act, being female is no longer a disadvantage in the line of succession.
Congratulations to the whole family!