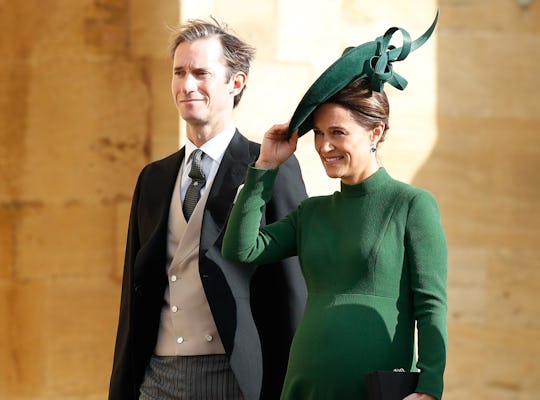 WPA Pool/Getty Images Entertainment/Getty Images
Pippa Middleton Could Give Birth To Her First Child Any Day (Or Minute) Now — Here's Why
On Friday, a very noticeably pregnant Pippa Middleton made headlines for attending Princess Eugenie of York and Jack Brooksbank's wedding right around her rumored due date. And it looks like the due date predictions were right, because Pippa Middleton could give birth any moment now as she was reportedly spotted arriving at the hospital on Monday, along with her husband James Matthews. Looks like Princess Eugenie's wedding and Meghan Markle's pregnancy weren't enough royal news for one week!
More specifically, the expectant couple were seen entering a "private maternity unit" at the Lindo Wing at St Mary's Hospital, according to the Daily Mail. James was photographed carrying two bags, one of which appeared to be a Cam Cam Copenhagen baby changing bag, according to the outlet. In case you forgot in all the hubbub of these very royal last few days, the Lindo Wing is where Pippa's sister, Catherine, Duchess of Cambridge gave birth to all three of her children.
It makes sense that Pippa would elect to give birth to her baby in the same setting, since her sister seems to have had such positive experiences there. Not only did Kate Middleton seem happy with the hospital's staff, but the wing is also well-versed in keeping royal births on the down low. Even though Pippa is not technically a royal, she has experienced a steady stream of royal fame ever since Kate and Prince William's royal wedding in 2011, so it makes sense that she'd want to give birth at a familiar and discreet location.
Pippa has been chronicling her pregnancy in a Waitrose column since announcing she was expecting early this summer. She confirmed that she was in the final month of her pregnancy in her most recent blog post, and she also took a moment to reflect on the realization that she really is about to become a mom. According to Waitrose, Pippa wrote:
As the final month nears and the bump grows prouder each day, movement is certainly getting more awkward. As a result, one of the biggest changes is that my lower body has tightened up. The knock-on effect is making my back and sacrum both uncomfortable and achy. The transformations to my body that are taking place as it prepares for childbirth have meant that the sound sleeps and the baby bubble effect have gone. Reality is finally kicking in.
That being said, this news doesn't mean that Pippa is officially in labor. Earlier this month, for example, she and James were photographed entering the Lindo Wing, as Harper's Bazaar reported. But before the OMG-is-Pippa-in-labor!?!? rumors could even start, the couple was spotted leaving the building, just an hour later. The quick visit implied that they were just there for a doctor's appointment or tour of the facility. Monday's Lindo Wing could visit could very well be of the same nature, but given that James was carrying an overnight bag and a baby changing bag, it seems pretty likely that she is preparing to give birth.
If Pippa does give birth this week, that would mean a royal wedding, a royal pregnancy, and a royal birth would all happen within a few days of each other. OK, Pippa may not technically be royal, but still, this must be some sort of royal record!