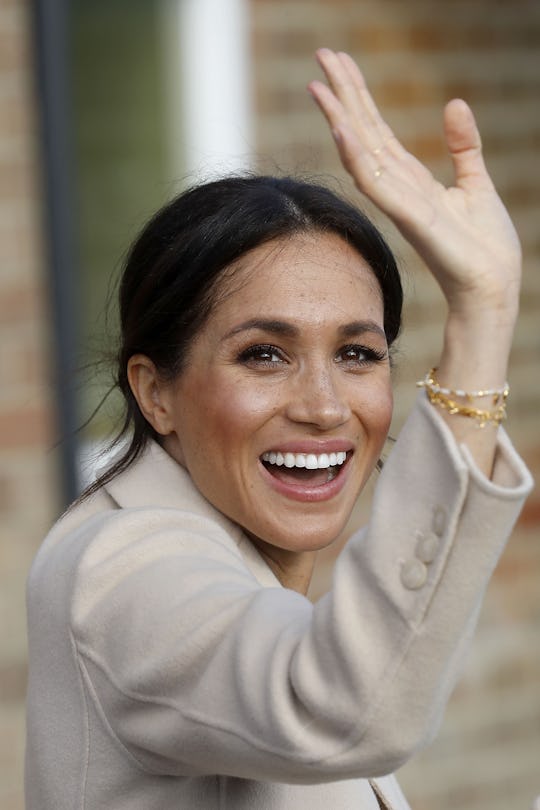 Chris Jackson/Getty Images Entertainment/Getty Images
9 Pregnancy Rules Meghan Markle Will Have To Follow As A Royal
Being pregnant comes with a slew of new challenges for pretty much every expectant mother. (Morning sickness, anyone?) But when you're a royal, there are even more layers of difficulty, because so many expectations are thrust on you and your unborn child. Now that Prince Harry and Meghan Markle, the Duke and Duchess of Sussex, are officially expecting their first child, it seems like a good time to go over a few royal pregnancy rules Meghan Markle will have to follow now.
The Duke and Duchess announced Meghan's pregnancy Monday morning. "Their Royal Highnesses The Duke and Duchess of Sussex are very pleased to announce that The Duchess of Sussex is expecting a baby in the Spring of 2019," Kensington Palace wrote on social media Monday morning. "Their Royal Highnesses have appreciated all of the support they have received from people around the world since their wedding in May and are delighted to be able to share this happy news with the public."
Both Meghan and Prince Harry have expressed their desire to become parents on multiple occasions, and they are clearly over the moon to be expecting their first child together. And considering how gracefully Meghan has assimilated to life as a royal, I have no doubt that she will be able to handle the pressure of carrying the seventh in line to the throne.
So without further ado, here are nine royal pregnancy rules that Duchess Meghan will likely be following from now until she gives birth in the spring.
1. Meghan Can't Have A Baby Shower
The average non-millionaire expectant parent usually looks forward to their baby shower, as it's an opportunity to receive everything you need for your baby in gift form. Unfortunately, throwing "a lavish baby shower would be seen as highly inappropriate" for the royals, royal expert Victoria Arbiter told The Sun. "There's nothing they can't go out and buy themselves," she explained.
2. She Will Probably Have To Give Her Baby Multiple Names
Keeping with the royal tradition of giving children multiple names, Prince Harry's full name is Henry Charles Albert David, according to Southern Living. Prince Harry and Meghan will likely give their baby a similarly long name.
3. And The Name Will Probably Be Very Classic
Speaking of names, you've probably noticed that the royal family tends to give newborns very traditional names. The names are typically given in honor of a royal family member, whether they are alive or dead, according to People.
Monikers like William, George, Philip, Arthur, Charlotte, Diana, Elizabeth, Albert, Louis, and Charles all have that classic royal ring to it. Given that Meghan and Harry's baby will be seventh in line to the throne, it's likely that they will opt for a similarly styled name.
4. She Will Likely Keep The Baby's Sex A Surprise
Prince William and Kate Middleton did not announce the sex of their three children until after they were born, and they themselves did not even know that Prince Louis of Cambridge was going to be a boy until he arrived, as Cosmopolitan reported. It seems probable that Prince Harry and Meghan will follow suit, since keeping the sex a secret is a standard rule for royals, according to The Sun.
5. She Will Not Be Able To Wear Sandals When Her Feet Swell
One of the most uncomfortable side effects of pregnancy for a lot of women is swollen feet. But should Meghan experience that, she will have to continue wearing closed-toed shoes, since royal women are not allowed to wear open-toed shoes during public appearances, as BabyGaga reported.
6. The Couple Will Likely Have To Tell The Queen About The Birth First
When Prince William and Duchess Kate welcomed their first son, Prince George of Cambridge, in 2013, they told the Queen first. (After the hospital staff, that is.) "Protocol dictated that William call his grandmother on a specially encrypted phone upon the birth," royal biographer Katie Nicholl wrote in Vanity Fair. "Then there were calls to Kate's parents in Bucklebury, her sister and brother, Prince Charles and Camilla, and Prince Harry," Nicholl added.
7. Her Days Of International Travel Are About To Wind Down
According to the Centers for Disease Control and Prevention (CDC), most airlines will allow pregnant women to fly until they are 36 weeks along. However, many doctors recommend limiting air travel in the third trimester, because it does pose a few risks, SELF reported. Interestingly, royals are encouraged to limit their travels abroad while pregnant, so that they are never too far from their doctors, according to The Sun. So after Meghan and Prince Harry return to England from Australia, where they are at the moment, she will probably stay fairly local for the rest of her pregnancy.
8. She Will Have Regular Check-Ups With A Maternity Team
Throughout Duchess Kate's pregnancies, she met with her maternity team once a month to make sure everything was on track, as Metro reported. The team, which was comprised of "two obstetricians, three midwives, three anesthesiologists, four surgical staff members, two special care staffers, four pediatricians, one lab technician for blood tests, and three or four managers" were all on-call and banned from drinking alcohol during Kate's third trimester, according to Metro. It would make sense for Meghan to work with a similar sort of team.
9. Meghan Will Likely Be Honest With The Public About Any Debilitating Side Effects
The Duchess of Cambridge suffered from hyperemesis gravidarum (aka severe morning sickness multiple times a day) during all three of her pregnancies. She shared her diagnosis with the public during each pregnancy, in order to explain why she had to miss some scheduled royal engagements. Should Meghan experience hyperemesis gravidarum (or any other crippling side effects), she may have to share that information publicly, as well.
Luckily, the two duchesses seem to have a great relationship, and I have no doubt that Kate will be there for Meghan to guide her through her pregnancy as a royal.