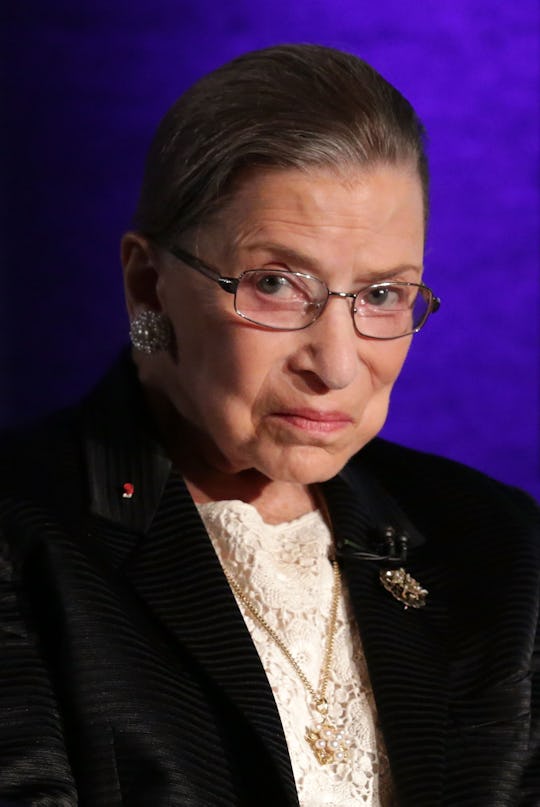 Alex Wong/Getty Images News/Getty Images
Ruth Bader Ginsburg Calls Kaepernick's Protest "Dumb & Disrespectful" & It's Disappointing
When San Francisco 49ers quarterback Colin Kaepernick launched what would become a nationwide protest by refusing to stand for the national anthem in August, he hoped to peacefully jumpstart a conversation about racial inequality and police brutality against African Americans in the United States. Since then, he's been called the most hated guy in the NFL and lampooned as a traitor. But he also has accomplished the goal of forcing issues of racism into the national spotlight. The fact that one prominent Supreme Court justice is talking about the effort is evidence of the power of the movement, but Ruth Bader Ginsburg called Kaepernick's protest "dumb and disrespectful," a disappointing admonishment from a revered liberal icon who has championed equality and social justice throughout her illustrious career.
"Would I arrest them for doing it? No," Ginsburg told Yahoo Global News Anchor Katie Couric in an interview that was released Monday, referring to Kaepernick as well as the other athletes who have opted to take a knee during the Star-Spangled Banner this season. "I think it's dumb and disrespectful. I would have the same answer if you asked me about flag burning. I think it's a terrible thing to do, but I wouldn't lock a person up for doing it. I would point out how ridiculous it seems to me to do such an act."
Ginsburg, the 83-year-old Bill Clinton appointee to the court, has long been a polarizing figure on the bench. But her arguments as a lawyer and opinions as a Supreme Court justice have consistently displayed her progressive, forward-thinking trajectory. She's a strong supporter of marriage equality, fair pay, and reproductive justice, and even earned the laudatory nickname Notorious R.B.G. and a quasi-cult following of contemporary feminists impressed with her efforts to ensure a more equitable society for many of its marginalized citizens.
Which is why it's so baffling and disappointing that Ginsburg, who has had weeks to get educated on the essential nature of the protestations of Kaepernick & Co., can't or won't grasp its significance — and that she'd go as far as to equate it with the burning of a flag. "I am not going to stand up to show pride in a flag for a country that oppresses black people and people of color," Kaepernick told NFL Media in late August. "... There are bodies in the street and people getting paid leave and getting away with murder."
It was a clear reference to police shooting deaths of black men like Alton Sterling in Baton Rouge and Philando Castile in Falcon Heights, Minnesota, on two consecutive days in July, a macabre national death toll that's only ticked higher and higher since — because African Americans do face a disproportionate share of police violence, and the officers who pull the trigger are infrequently charged, as Vox reported.
Perhaps these issues do seem opaque to Ginsburg as a white woman, the social media-fueled Black Lives Matter movement elusive to her as an octogenarian. But later in the same Yahoo News interview, which Ginsburg did to promote her upcoming book, In My Own Words. In the book, she reportedly reflected on seeing a lawn sign that read "No Dogs or Jews allowed" as a young girl. Ginsburg herself is Jewish.
"All I can say is I am sensitive to discrimination on any basis because I have experienced that upset," Ginsburg told Couric about that experience, this time discussing Republican presidential candidate Donald Trump's proposal to make it drastically more difficult for Muslim immigrants to enter the country.
That statement, though, simply doesn't jive with the derisive words she used to talk about Kaepernick's pledge to keep the mistreatment of black Americans face from fading from the national consciousness, even if she did, at least, say that the protesters should not be jailed (as though that were ever an option):
If they want to be stupid, there's no law that should be preventive. If they want to be arrogant, there's no law that prevents them from that. What I would do is strongly take issue with the point of view that they are expressing when they do that.
Ginsburg's remarks about Kaepernick's protest show that, for all the work she's done to help move this country in a better direction, she doesn't fully comprehend that the protesters aren't aiming to disrespect the flag, but that they view it as a symbol of oppression. As Ginsburg undoubtably knows from her years debating with more conservative members of the court and offering opinions in hard-fought cases, social ills do no simply fade away without a concerted, unrelenting effort to change them. And that oftentimes means upsetting those who'd prefer that those efforts happened outside of their purview, and didn't intersect with symbols and traditions they hold dear.