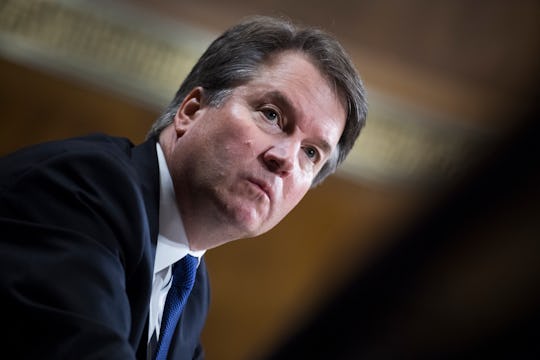 Pool/Getty Images News/Getty Images
U.S. Senate Votes To Advance Brett Kavanaugh Despite Dr. Ford's Testimony
If nothing else, these past few weeks have been an intense display in partisan politics at the expense of sexual survivors everywhere. And on Friday afternoon, that proved true more than ever before. That's because the Senate Judiciary Committee voted to approve Brett Kavanaugh's nomination for U.S. Supreme Court justice after Dr. Christine Blasey Ford's heartbreaking testimony. The approval, though, comes with one caveat, as put forth by Republican Senator Jeff Flake of Arizona, according to CNN: That the full floor vote be put off in order for the FBI to investigate the sexual assault allegations against Kavanaugh.
The Senate Judiciary Committee voted 11 to 10, along Republican party lines, to send Kavanaugh's nomination to the Senate floor, CNN reported. But before members recorded their votes, they held a short — and dramatic — discussion, prompted by Flake, over whether or not a short FBI probe into the allegations should be launched. Flake, who was considered a swing vote, ultimately voted to advance the nomination out of committee, but did so under the condition that the main vote be delayed by a week so that an investigation can be completed, according to CNN.
The Arizona senator said during Friday's meeting that he would not vote to confirm Kavanaugh unless a probe was launched. But it's not known whether Senate Majority Leader Mitch McConnell will honor Flake's request, according to The Guardian.
Friday's Senate Judiciary Committee meeting was, by all means, a circus. Senate Republicans forced the committee vote through on Friday afternoon, according to Reuters, and gave little time for senators to review and weigh the contents of either Ford's or Kavanaugh's testimony.
And there is a lot to weigh: Ford sat before the committee for hours on Thursday, and recalling in great detail how Kavanaugh had allegedly attempted to rape her at a party in 1982. Kavanaugh, for his part, has vehemently denied the allegations, and, as many people watching the hearing, particularly indignant during his testimony.
The rush job wasn't lost on Senate Democrats. For their part, Democratic members of the Senate Judiciary Committee continued to push during Friday's meeting for an FBI investigation into the sexual assault allegations brought by Ford and two other women, Deborah Ramirez and Julie Swetnick. These demands, of course, came before Flake's request.
Ramirez came forward earlier this week, alleging that Kavanaugh himself to her during a drinking game while they were both students at Yale University, USA Today reported. Swetnick, whose identity was revealed on Wednesday by her attorney, Michael Avenatti, who also represents adult-film star Stormy Daniels, claims that Kavanaugh stood by and watched as she was raped by a group of boys in high school, according to The Los Angeles Times. Kavanaugh's friend Mark Judge, who Ford says participated in her reported attack, was among the group of high schoolers, Swetnick alleges.
Republican Sen. Charles E. Grassley of Iowa, chairman of the judiciary committee, and other Senate Republicans repeatedly shut down those demands for a law enforcement probe in their speeches before the official committee vote. They claimed that an FBI investigation would not yield new information beyond what was made public during Thursday's hearing — an argument that Senate Democrats have, in so many words, called erroneous during Friday's meeting.
But Democrats, and even some Republican governors, aren't the only ones who had requested a federal law enforcement probe. Both the American Bar Association and dean of the Yale Law School had urged the Senate Judiciary Committee to delay its Friday vote until the FBI completed an investigation into the sexual assault allegations against Kavanaugh, according to The Washington Post. They claimed it would not be "in the best interest" of the U.S. Supreme Court to push Kavanaugh's confirmation through otherwise, The Post reported. Grassley, for his part, ignored the ABA's request and expertise.
It's not at all surprising that the Senate Judiciary Committee had voted to advance Kavanaugh's nomination for Supreme Court justice. If Thursday's hours-long hearing and Friday's committee meeting proved anything, it's that Republicans, in particular, aren't entirely concerned about finding out the truth.
Flake's request for an FBI probe may seem like a small victory for survivors, but in reality, it's just lip service. It means nothing unless McConnell grants the request, and with McConnell's history, it's hard to believe he will.