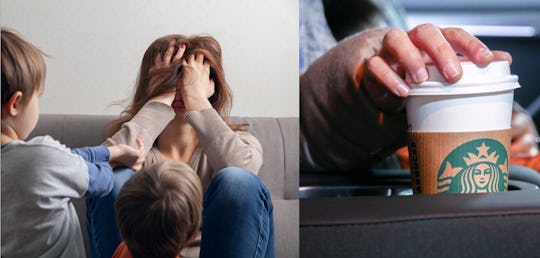 Photos by Shutterstock and Zhang Peng/LightRocket/Getty Images.
11 Mom Problems You Can Solve With A Pumpkin Spice Latte
For moms across the country, fall officially starts when Pumpkin Spice Lattes are back at Starbucks. This delightful caffeine concoction is, obviously, the real harbinger of autumn, and us moms are stoked. These babies are serious mom fuel, and there are many mom problems a Pumpkin Spice Latte can solve. Like, immediately.
Is it "basic" to be super into PSLs? Sure. But who cares? If basic means yummy and full of life-giving caffeine sign me the hell up. "Basic" is just a way for people to make women feel bad about enjoying themselves, so don't buy into that. In fact, lean into basic-ness with all your heart and, when necessary, use it to your advantage.
OK, so a Pumpkin Spice Latte cannot, on a grand-scale, bring about the systemic change mothers really need to make their lives markedly better. But sometimes it's the little things keep us going, and I think it's OK to take comfort in comfort food because that's why it's called comfort food, you guys! PSLs are delicious and can bring a spark of joy in a world that feels like it's on fire. I may not be able to get universal healthcare in place by this afternoon, but I can go to the Starbucks drive-thru for a quick pick-me-up until I can.
So with that in mind, here are some of the mom problems that can be solved with a sip of a Pumpkin Spice Latte: