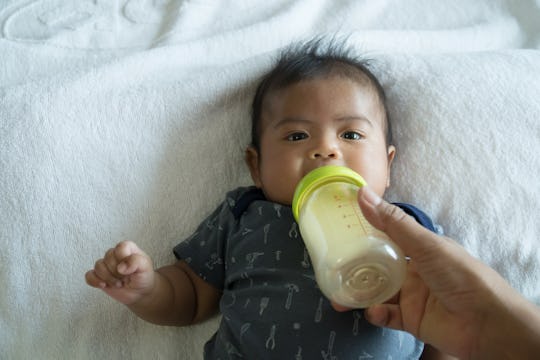 napatcha/Fotolia
14 Things A Grown-Ass Man Should & Shouldn't Say After His Partner Switches To Formula
If you're lucky, one of the first skills you will acquire as a new parent is flexibility. Because when it comes to babies, not everything will go as planned. For example: unfortunately, most new moms will not reach their breastfeeding goals. Fortunately, there's formula. And there are things a grown-ass man says when his partner switches to formula... and things he does not.
Look, I get it: adulting is hard. There are bills and jobs and responsibilities and one day you wake up and realize you threw out your back reaching for a spatula. (OMG how does that even happen?) Physically, emotionally, and psychologically, it's all just a lot to handle. But being a grown-ass man, once you get the hang of it, isn't actually that hard. It's really mainly about being a thoughtful, compassionate person who respects others. When you love someone, this should be your default mode of behavior. (Of course everyone screws up sometimes: you may be a grown-ass human, but you're still a human.)
Being a new parent challenges everything, including your ability to function as a grown-ass man. This is all the more reason to really commit to it, though. Wile it might take a little more effort in the short-term, in the long-run it will make your relationship with your partner and child so much better and easier.
Deciding to make the switch from breast milk to formula is one of the early moments when you can assert yourself among the ranks of other grown-ass men. So here are some of the things you should and absolutely should not say: