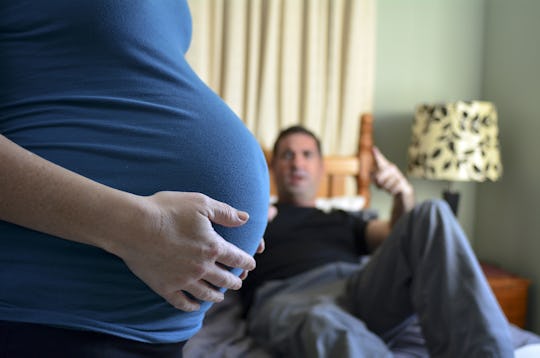 Rafael Ben-Ari/Fotolia
The 8 Most Common Third Trimester Fights & How To Avoid Them
Pregnancy doesn't last forever, but the potentially negative ways it can impact your relationship certainly can. And when you're exhausted, uncomfortable, and in your third trimester, common arguments can really put a strain on your relationship. There isn't a couple in the world that's perfect, so growing tension, miscommunication, and arguments are bound to happen, but it's best to avoid the most common third trimester fights if you can. That way, you can spend your time, emotional labor, and energy focused on taking care of yourself before you bring your baby into the world.
Rhona Berens, PhD, CPCC, a life coach who counsels new and expectant parents through ParentAlliance, tells The Bump that "the most important factor in setting up a happy relationship after baby's born is the quality of your relationship while you're still expecting." And since 70 percent of couples experience that euphoric drop after having children, according to as study published in the US National Library of Medicine and National Institutes of Health, it's important to pinpoint any potential relationship issues before they snowball. If you know how to preserve the quality of your relationship now, you and your partner will be able to stand on a strong foundation once you become parents.
Of course, every couple is unique, and so are their arguments. In the end, you and your significant other will have to do the work to make sure your relationship remains a priority after you become parents. But being prepared to face some of the most common third trimester fights will definitely help the two of you navigate a potentially difficult time, and keep your relationship healthy, happy, and thriving.