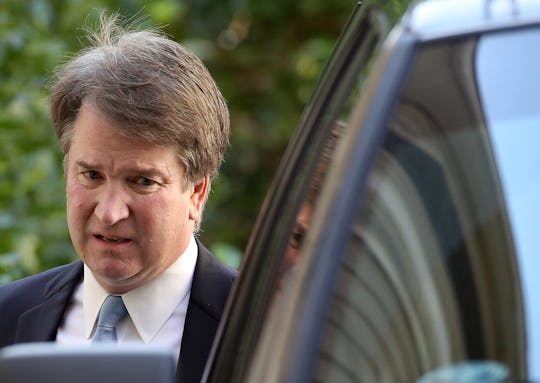 Win McNamee/Getty Images News/Getty Images
10 Mom Survivors Of Sexual Assault Share How The Kavanaugh Allegations Have Impacted Them
As a sexual assault survivor, the #MeToo movement has been both a blessing and a curse. For the first time I can share my story and hear the the words "I believe you" in return. But with every story, every allegation, every powerful man being held accountable and every powerful man eluding the consequences of his actions, I'm also left feeling afraid, angry, and overwhelmed. The sexual assault allegations against Judge Brett Kavanaugh are no different, and now, once again, I am left to confront of my own assault. I'm left fearing for my kids and the world I'll one day have to send them out into; a world that's more concerned with a man's reputation or future career opportunities than a woman's humanity or the impact of sexual assault. I feel so helpless, hopeless, and stuck in a cycle perpetuated by rape culture; a cycle that might allow a man credibly accused of sexual assault to hold a lifetime position as a Supreme Court Justice.
Dr. Christine Blasey Ford accused Judge Kavanaugh of attempting to rape her during a high school party in 1982. Kavanaugh has denied the allegations, and since coming forward, Dr. Ford has received death threats, has had to take a leave of absence from her job as a psychology professor, and after being doxxed by an internet troll, has had to go into hiding with her family. Numerous rumors have now circulated the internet about Dr. Ford, according to The New York Times, including that she has ties to Russia. Her life, in no uncertain terms, has been upended.
The backlash Ford has faced, perpetuated by strangers on the internet and even high-powered politicians — like Senator Orrin Hatch (R-UT) who said Dr. Ford was "mistaken" and that even if the allegations are true "I think it would be hard for senators to not consider who the judge is today. That's the issue. Is this judge a really good man? And he is. And by any measure he is." — has also impacted survivors of sexual assault who are watching, from the sidelines, as people rush to Kavanaugh's defense and attack Dr. Ford with impunity.
Mothers of daughters are terrified they will experience sexual violence. Mothers of sons are worried they won't be able to escape the grips of toxic masculinity. And the mom sexual assault survivors are battling daily triggers as they attempt to continue to raise their children in a rape culture that tells them their stories, their voices, their trauma, do not matter. When we go online we re-live our assaults. When we turn on the news we remember our abusers. And when we look at our children we desperately hope they'll never know what this kind of lasting trauma feels like.