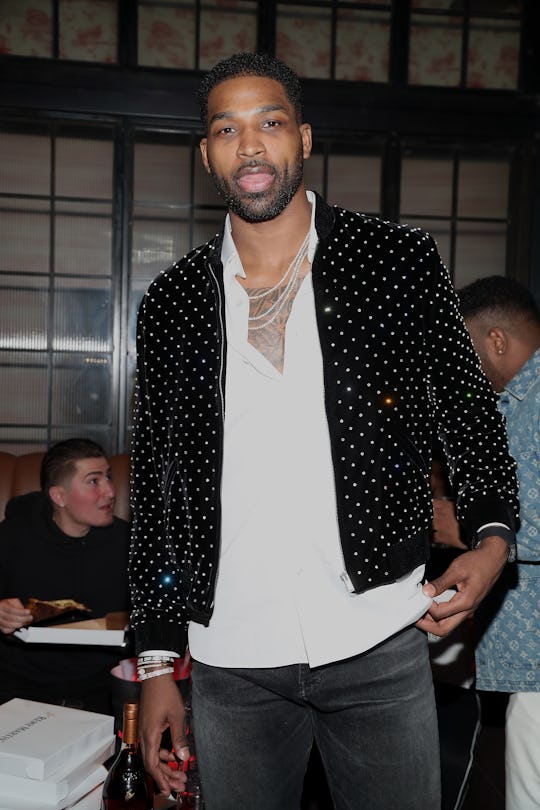 Cassidy Sparrow/Getty Images Entertainment/Getty Images
Tristan Thompson Has Spoken Out About True Thompson For The Very First Time
Since the birth of their daughter, Khloé Kardashian and Tristan Thompson have kept pretty much to themselves. After a month of laying low, Tristan Thompson opened up about True in a rare interview this week. And it sounds like she's doing great.
It can't have been an easy few weeks for the entire family. Just days before Khloé gave birth, The Daily Mail released a video of Thompson reportedly cheating on Khloé with another woman and then shortly after, TMZ released a video of the Cleveland Cavaliers player reportedly with two women all the way back in October. Kardashian and Thompson did not immediately respond to Romper's request for comment and they also haven't confirmed or denied the cheating rumors in public.
Although Thompson's been busy playing basketball, it appeared that Khloé was pretty much hanging alone in Cleveland with baby True. She posted to her app and social media every once in a while, but we haven't gotten a picture of the baby yet or anything, which only served to fuel the gossip mills. This week, she attended one his games and the two were spotted out on a date together, so it looks like they might be working things out, if there was anything to work out at all.
On Wednesday, while sitting down with UNINTERRUPTED's Road Trippin' podcast with Channing Frye and Allie Clifton, Thompson opened up a little about his baby girl. Although True's parents lives are super busy, she's not really up to much, as you might imagine. The NBA player said, "She's doing good. Baby True is eating, sleeping and, uh, sh*ttin'. That's all they do."
He added that she has a "full head of hair" and green eyes, so that can hold us all over until the pics are released. Thompson added that he felt that having a girl was different from when he had his son, Prince Oliver, with ex-Jordan Craig in 2016. Thompson added in the same interview:
I think with a girl, you're just so much more emotionally like... With a boy, it's just like, 'Hey, man. You'll be alright, man. Stop crying.' But [with True], it's like, 'True, it's gonna be OK. You know, we're right here. Daddy's here to feed you. It's me! Look, yeah!' It's way different, but it's fun, though.
He added that parenting no matter what "changes you." But whatever the change is, he's into it. When asked if he wanted to have more children, he said, "I'm gonna keep going. I've got a couple more. I got a couple more left." Whether that's with Khloé or someone new remains to be seen.
While neither Thompson or Kardashian have addressed the rumors, Kim Kardashian did, during an appearance on the Ellen DeGeneres' show last week. Khloé's older sister looked disappointed when she told the talkshow host that the whole situation was so "messed up." Kim added that Khloé was taking everything in stride, focusing on being a mom, and taking advantage of her support system. Khloé's a tough cookie, which Kim mentioned. She added:
I think she just wants a clear head and just wants to be alone with her baby and figure that out ... she wanted to have some alone time with the baby and figure out what her next steps are. It's a really sad situation all over.
Just because someone cheats on someone, which again, there's no official confirmation that he did, doesn't mean that the whole relationship is bust. There's no way of telling what kind of relationship those two have and what they're all really going through. In any case, it sounds like Tristan is taking to this dad thing, despite all the drama and his busy schedule. What's not to love about that?