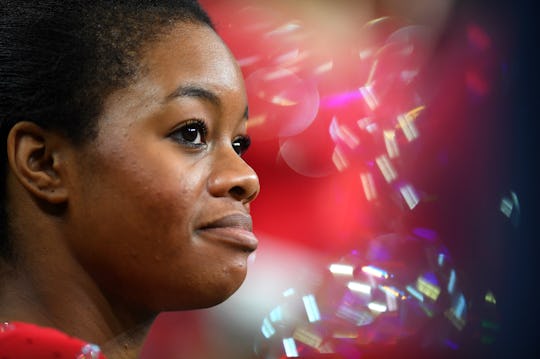 Laurence Griffiths/Getty Images Sport/Getty Images
Twitter Heaps Praise On Gabby Douglas, Because The Haters Don't Matter
Gymnastics superstar Gabby Douglas is a national treasure. That's why it's baffling and disturbing that some internet haters had the two-time Olympian and three-time gold medalist crying instead of celebrating after they spent the first week of the Rio Games criticizing her for petty, perceived sleights. Thankfully, many right-minded, sane Twitter users are heaping praise on Gabby Douglas with the #LOVE4GABBYUSA hashtag in response. This is a woman who has represented the United States with grace, poise, humility, and unparalleled athleticism, and she deserves her country's love and unwavering respect.
It seemed like all of the United States recognized the now-20-year-old Douglas as the rare, rare gem that she is during her debut Olympics in 2012, when she lead her team in winning the all-around and clinched gold in the individual all-around as well. In Rio this year, though, Douglas had a disappointing showing: Although she did help the "Final Five" earn the top spot in the team all-around, a controversial "two per country" rule barred her from competing in the individual all-around after she finished third in the semifinals behind teammates Simone Biles and Aly Raisman. Then, in what was likely her final Olympic competition, Douglas placed seventh out of eight gymnasts on the uneven bars.
Although that was undoubtedly a difficult situation, the backlash she's received from ungrateful, judgmental Americans who took issue with the starlet's every action during these Olympics was arguably much, much worse for her — and definitely compounded any disillusionment she may have felt.
It started in earnest last Sunday night, when Douglas respectfully stood on the gold medal podium during the national anthem along with her teammates after their group all-around win — undoubtedly awash with all kinds of complicated emotions — with her hands clasped in front of her rather than placing one over her heart. Social media know-nothings pounced, questioning her patriotism and accusing her of trying to make an anti-American statement.
And the jealous jerks weren't done. Trolls made fun of her performance hair for not being straight enough and began referring to her by the unflattering moniker "Crabby Gabby," having decided with very little evidence that she was feeling bitter towards her teammates who were having more success in the arena. They were mean, mean tweets and posts, and I won't replicate them here.
But — Hallelujah! — enter #LOVE4GABBYUSA, which I absolutely will replicate and retweet and favorite and share. On Sunday, Douglas didn't medal in the uneven bars event, a tough way to possibly end her Olympic career. And during a subsequent press conference, she talked about how much the online negativity has hurt her.
"It was hurtful, " she said, according to ESPN. "It was hurtful. It was. It's been kind of a lot to deal with... I've always said it was an honor to represent the U.S. "
And after that, she literally stood in a corner, facing a wall, and cried. We're better than this, America.
And, it turns out — we really are! Some of us are, anyhow, and one of the first high-profile figures to restore faith in humanity was accomplished comedian and actress Leslie Jones, who's also such an Olympics superfan that NBC invited her to hang out at the Games in Rio, live tweeting all the way. So, when Jones heard about Douglas's plight Sunday night, she urged the gymnast's supporters to show her some well-deserved love:
Earlier in the summer, Jones, who starred in an all-female reboot of the film Ghostbusters, was the target of disgusting, barely human, racist Twitter trolls who bombarded her with so much vitriol that she temporarily left Twitter. So, she knows what the struggle is like, and how some sincere support can make a huge difference. And so a hashtag was born, and it was glorious:
Douglas, even though she's supported her teammates and represented her country and worked her butt off to make it to the Olympics not once but twice, has apologized to her bullies. Even at the press conference Sunday night, when she was forced to defend herself for not smiling enough or acting exactly the way non-Olympians think she should, she culminated with a despairing "I'm sorry," through tears. Gabby, you're not the one who should be sorry. You are amazing.