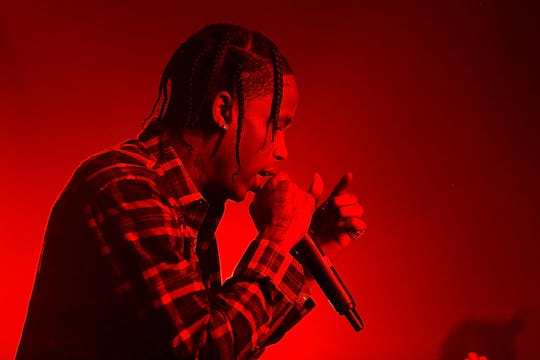 Randy Shropshire/Getty Images Entertainment/Getty Images
Fans Think Travis Scott Missed The Kardashian Christmas Party
Each year, the Kardashians' savvy matriarch Kris Jenner throws a Christmas Eve party of the ages. Everything from the decorations to the food is an exercise of opulence, and the guest list is a who's-who in Hollywood. The Kardashian-Jenner clan danced alongside celebrity friends Christina Aguilera and Ryan Seacrest, according to US Weekly. But Keeping Up With The Kardashians fans want to know: Was Travis Scott at the Kardashian Christmas party? The answer to that question is... maybe.
Update: TMZ reported on Wednesday afternoon that Travis Scott did attend the party with Kylie, and the story included photos of the two together in the photo booth:
Previously: Kim Kardashian and sister Khloé shared memorable moments and selfies from Jenner's annual Christmas Eve party to their Snapchat and Instagram accounts, according to US Weekly. Aguilera, sister Kendall Jenner, Scott Disick, and Toni Braxton, who performed at the shindig, all showed up in the shots posted to social media. But Scott didn't appear in any of the photos posted that night, leading many to believe that the 25-year-old rapper, who's dating Kylie Jenner, missed the holiday party, according to Hollywood Life.
But sources close to the family say that Scott was indeed present at Kris Jenner's extravagant Christmas Eve bash, even though he was absent from the photos, Hollywood Life reported. Still, Scott's absence does raise eyebrows, considering all those pregnancy rumors surrounding Kylie.
Speaking of Kylie: The younger Jenner sister didn't show up in any of her family's Snapchats either, but did pose with sister Khloé for some professional shots, according to People. The shots only show her from the chest up, so fans could not see if Jenner has a baby bump or not. But a source at the party told People,
Kylie looked great but didn't really draw any attention to her baby bump. She still acts like she wants to keep her pregnancy private."
Jenner has yet to confirm if she is indeed pregnant. The rumors around her reported pregnancy have swirled since September, when TMZ first broke the news that she is reportedly expecting her first child with Scott. Except for the holiday photos and a few social media posts, Jenner has remained relatively out of the spotlight since then. A rep for Jenner has not responded to Romper's request for comment regarding the pregnancy.
Her sister Khloé is another story. US Weekly first broke the news of the Good American co-founder's pregnancy back in September, based on information provided by multiple sources close to the reality TV family. The younger Kardashian sister had remained tight-lipped for months, until last week, when she finally confirmed that she's expecting her first child with basketball star Tristan Thompson.
If you've followed Khloé's life, then you know this pregnancy is a major deal for the reality TV star. Kardashian has opened up publicly in the past about her struggles with trying to conceive, so becoming pregnant with Thompson's second child is a much-wanted dream realized. (The Cleveland Cavaliers center already has a 9-month-old son named Prince Oliver with his ex-girlfriend, model Jordan Craig.)
Khloé Kardashian even acknowledged her struggles to conceive in the Instagram post announcing her first-ever pregnancy. The 33-year-old reality TV star wrote, in part,
My greatest dream realized! We are having a baby! I had been waiting and wondering but God had a plan all along. He knew what He was doing. I simply had to trust in Him and be patient. I still at times can't believe that our love created life!
Kardashian, who is six months along, proudly displayed her baby bump during her mother's annual Christmas Eve party. The mom-to-be wore a sparking body suit decked out in white and silver fringe, according to photos posted to her Instagram. And in one of the images, Khloé held her pregnant belly, drawing attention to what she's called her "greatest dream realized."
Of course, now that Khloé has confirmed her pregnancy, Keeping Up With The Kardashian fans can't wait for Kylie to follow suit. Some fans think her perceived absence — and Scott's, to an extent — proves she's expecting. But that's hardly proof of anything, other than poor timing.