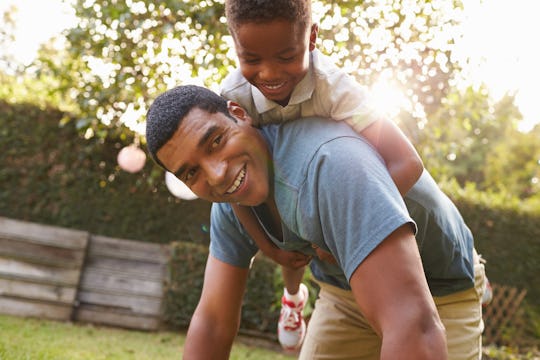 Monkey Business Images/Shutterstock
13 Dads Reveal What They *Actually* Want For Father's Day
Ah, Father's Day. Or as I like to call it: "Mother's Day Payback," which can be a good or a bad thing depending on how well you handled Mother's Day. Just kidding, dads! We're happy to give y'all a special shout out every third Sunday in June. However, since the vast majority of dads are men and most men are encouraged not to express themselves emotionally, it can be difficult to figure out exactly how to celebrate them (and what to get them) for their special day. So I decided to find out what dads really want for Father's Day by asking... wait for it... actual dads!
The common thread among the papas I talked to? They don't want much. In fact, it was actually charming how much they really did not want. Main themes included some form of acknowledgment and a decent meal. Another big theme was "experiences" over "things." It was actually remarkably similar to when I talked with moms about how they wanted to spend Mother's Day.
So, if you're looking for a big rundown of big ticket items to pick up for your dad on your way to their house on June 16 (I'm helping you out here, people: that's when Father's Day in 2019 is happening), this ain't it. Because the fathers I talked to are generally interested in a much simpler, quieter life... except for the guy I talked to who wanted to drive a race car.