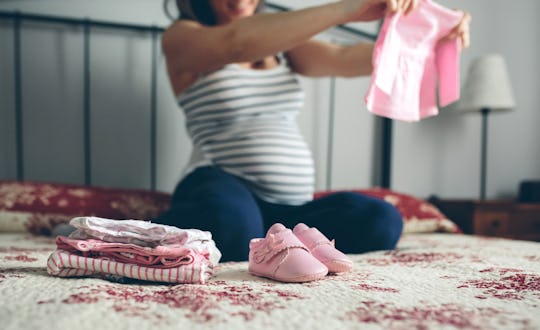 David Pereiras/Fotolia
15 Moms Reveal The Weirdest Thing They Packed In Their Hospital Bag
I learned one valuable lesson after I gave birth: "more" doesn't always equal better, especially when it comes to packing your hospital bag. I brought a carload of stuff with me I didn't end up needing, like the blow up exercise ball that might actually still be in its package, a six pack of my favorite beer, a transcutaneous electrical nerve stimulation (TENS) machine for pain relief, and satin pajamas. I mean, what?!
I'm not alone, though. When I asked other moms to share what they packed in their hospital bag I realized that "bringing weird stuff to the hospital" is kind of par for the pre-labor course. It seems that when it comes to childbirth, and recovery time in the postpartum unit, different people need (or think they need) different things to make it through.
Some of the moms I spoke with brought some pretty bizarre items, probably because they were first-timers and had no idea what to expect or totally had the wrong idea about how much time they would have on their hands in the delivery room or after their babies were born. Others packed stuff many might consider strange in their hospital bags precisely because they had "been there and done that" and knew what they would need or want to make it through the hours of childbirth and days of recovery to follow. And still others, like me, who are quintessential over-packers, had a hard time not bringing along everything but the kitchen sink, just in case they might need it.
If you are getting ready to pack your own hospital bag, or are curious about what's inside other mom's bags, read on: