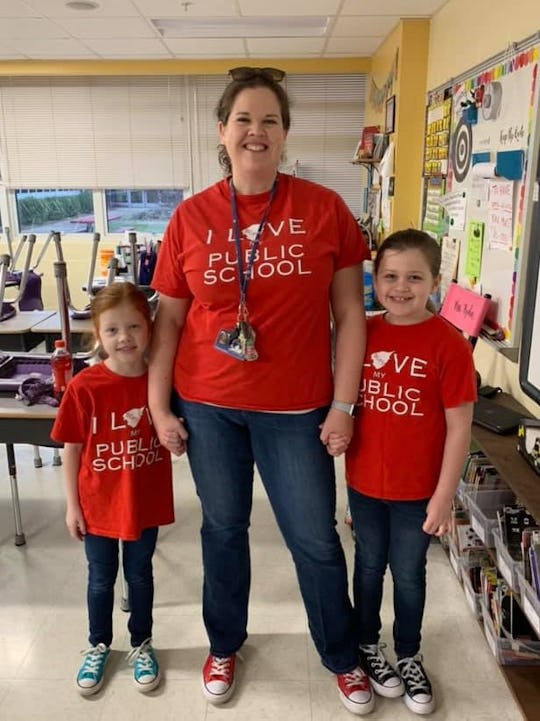 Photo courtesy of Melissa H.
16 Moms Share Their "Take Your Kid To Work Day" Feels & OMG Prepare Yourself
On April 25, millions of parents in the United States and Canada will head to their jobs with kids in tow to take part in "Take Our Children To Work Day." And to no one's surprise, moms have feelings about it. Some warm and fuzzy, some prickly, some ambivalent, some straight-up rage-filled. So, what's the purpose of take your children to work day? Turns out, in part, to give us parents all the feels.
Observed annually on the fourth Thursday in April since 1993, the unofficial holiday was originally conceived as "Take Our Daughters To Work Day" by Gloria Steinem and the Ms. Foundation (though boys have been participating since day one). The idea is to give girls (and as of 2003, officially, boys as well) opportunities to explore careers and combat sexist and classist ideas that there are places where they "don't belong."
A lot of the moms I talked to (and I only talked to moms, which I think is very relevant) were supportive of the concept and are eager to bring their kiddos along with them for the day. Others took issue with the idea of the day, from how it's changed to how it's observed. More still were like: "How is this different than all the times I have to bring my kids to the office because childcare statistically falls more to moms than dads and society hates working parents in general and working moms in particular."
There's a lot of ways you can think about Take Our Children to Work Day. Since I work from home (and, therefore, every day is Take Our Children To Work Day) I'll let the following 16 ladies speak for themselves: