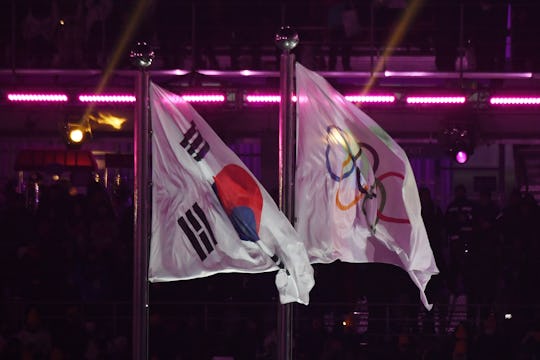 Pool/Getty Images Sport/Getty Images
Here's Why They Were Speaking French At The Olympics Opening Ceremony
The 2018 Olympic Games are officially underway in PyeongChang, South Korea, and those who got up early to watch the parade of nations were treated to quite the spectacle. But if you're not a regular viewer, you might be confused about why they're speaking French at the opening ceremony, rather than Korean. It's because Rule 23 of the Olympic charter establishes two official languages for the games: French and English. That's because French was the native tongue of Baron Pierre de Coubertin, founder of the International Olympic Committee, according to the New York Times.
That means that all signs, paperwork, announcements, and the like are to be in both French and English, and if there should be any disagreement between the two versions, "the French text shall prevail," as the charter states. Other languages are expected to be spoken at the games, of course, especially if neither is the official language of the host country. But translation must be provided into French and English, as well as German, Spanish, Russian and Arabic. That may seem a bit tiresome, but when you've got millions of people from about a hundred countries all descending on one city for a couple of weeks, it helps to cover your bases.
It's a curious mix of languages at the Olympics, particularly when you consider the fact that the most popular language, Chinese, was left off of the list, and according to the language learning site Babbel, French and German aren't even in the top 10. Sorry, Pierre! But no matter where French ranks, there will always be someone keeping a watchful eye on the Olympics and making sure that they follow the charter, just like that teacher who would respond to even your most urgent hall pass request with, "Ah, ah, ah! En français, s'il vous plaît!"
Organisation internationale de la Francophonie, which represents 80 French-speaking countries, has a whole slew of people who monitor the use of French at the Olympics, or lack thereof, and report back their findings. Ever since the 2004 games in Athens, the group appoints a Grand Témoin, or Great Witness, to oversee the efforts. "It's a struggle each time you have the Olympic Games, in a different country and a different city," OIF Secretary General Michaëlle Jean told the Times during the 2016 games in Rio. "We must be there to make sure the French signs and documents and information are there. We have 3,000 athletes and a lot of people in the public from Francophone countries."
But isn't there an app (or 10) for that? Sure, but that's not the point. The OIF's chief goal is promotion of the French language, and their members do not take that job lightly. According to an OIF press release, Jean is accompanying this year's Grand Témoin, former French Minister of Culture Fleur Pellerin, to the PyeongChang games. "The time has come to see if the instructions and recommendations duly formulated have been observed and followed" may be a rough Google translation, but there's no mistaking that formality.
OIF isn't just silently observing the games, either. Per the press release, the group has recruited more than 1,000 French-speaking Korean volunteer translators to assist Francophones at Olympic venues, so if you remember your high school French and need to know which W.C. to use, you're in luck. OIF has also sponsored French-speaking journalists from Senegal, Vietnam, Cambodia, and New Caledonia to cover the games. More than 900 athletes from OIF member countries will be competing, and OIF will provide French translation during all athlete press conferences. The Olympics is meant to promote international friendship and cooperation among participating nations, and the OIF will ensure that French-speaking countries won't be forgotten.
Check out Romper's new video series, Romper's Doula Diaries:
Watch full episodes of Romper's Doula Diaries on Facebook Watch.