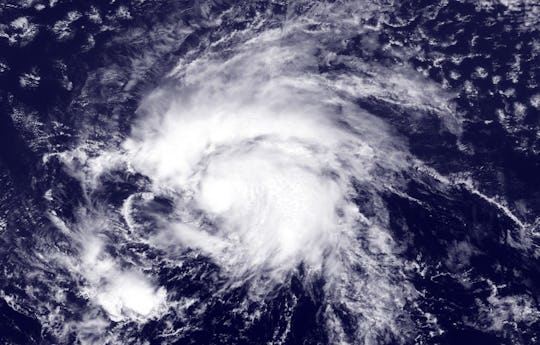 Handout/Getty Images News/Getty Images
Will Hurricane Maria Hit The Carolinas? Here's The Projected Path
Just weeks after Hurricane Irma ravaged the Caribbean, Hurricane Maria unleashed its wrath on the recovering islands. The powerful storm crashed into Puerto Rico as a Category 4 hurricane on Wednesday, causing floods, destroying property, and cutting off communication. Maria also slammed the islands of Guadeloupe and Dominica, and is expected to hit the Bahamas and the Turks and Caicos Islands sometime this week. But which way will the storm travel after that? Will Hurricane Maria hit the Carolinas? The possibility seems unlikely that Maria will make U.S. landfall.
Meteorologists don't anticipate that the storm will make landfall in Florida, Georgia, or South Carolina at this time, according to AccuWeather. Instead, weather maps show that Hurricane Maria will likely stay offshore of the southeastern part of the states through Monday morning. But there's a chance that, like Hurricane Jose, Maria may cause rough surf, dangerous rip currents, and strong wind gusts on the east coast, north of West Palm Beach, Florida, AccuWeather reported.
Whether or not Hurricane Maria will hit North Carolina by the end of next week is less predictable. AccuWeather meteorologists say a number of factors, including atmospheric pressure, will determine how far west the storm will travel once it's north of South Carolina.
Maria could either stay offshore, or come close to the coast, with a potential for wind and heavy rain, according to AccuWeather. The stretch from North Carolina to Massachusetts would be most vulnerable to the storm if it were to make landfall.
According to USA Today, scientists predict that Hurricane Maria, now a Category 3 storm, will continue to move northwest before swinging north into the Atlantic Ocean. The hurricane had passed along the Dominican Republic's northeast coast on Thursday before it will hit the southern Bahamas on Friday. According to the New York Times, hurricane warnings have been issued for parts of the Dominican Republic, the Bahamas, and the Turks and Caicos Islands.
Puerto Rico and Dominica have already seen total destruction because of Hurricane Maria. The Washington Post reported that the massive storm had ravaged both islands, crushing buildings and knocking out power. Felix Delgado, mayor of the coastal city of Cataño in Puerto Rico, said of the damage, according to the Post,
Months and months and months and months are going to pass before we can recover from this.
Some fatalities have also been reported. According to the Associated Press, Roosevelt Skerrit, prime minister of Dominica, said at least 15 people were killed because of the catastrophic storm, while 20 others are missing. The news comes days after Skerrit took to Facebook to update the world on the country's condition. On Tuesday, he wrote,
I am honestly not preoccupied with physical damage at this time, because it is devastating...indeed, mind boggling. My focus now is in rescuing the trapped and securing medical assistance for the injured. We will need help, my friend, we will need help of all kinds.
The 2017 hurricane season has so far been marked by tragedy. First, Hurricane Harvey ripped through the Texas Gulf Coast, displacing hundreds of thousands of people. Then Hurricane Irma pummeled the Caribbean and southern Florida, leaving millions without power. And now Puerto Rico and Dominica face a long road to recovery after being battered by Hurricane Maria.
These natural disasters have upended people's lives. They could use all the help they can get as they continue to pick up the pieces. Consider donating to a local charity or volunteering with relief groups to help ease the recovery process. Lending a hand will go a long way as the people affected try to make sense of the destruction.
Watch Romper's new video series, Romper's DoulaDiaries:
Check out the entire Romper's Doula Diaries series and other videos on Facebook and the Bustle app across Apple TV, Roku, and Amazon Fire TV.