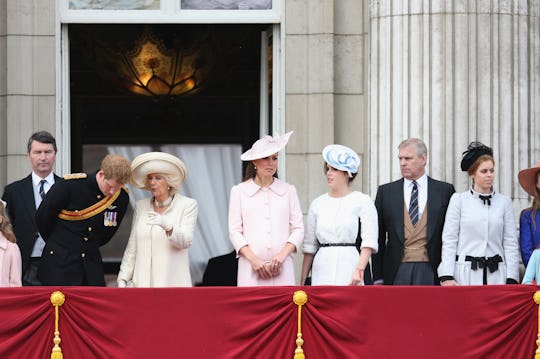 Chris Jackson/Getty Images Entertainment/Getty Images
A Tiny Arrival May Keep Kate Middleton From Princess Eugenie's Wedding
Everyone loves a good (royal) love story, and in less than a week, Princess Eugenie will flip to the next chapter of her romantic book. Sarah Ferguson's youngest daughter will finally walk down the aisle at St. George Chapel at Windsor Castle to marry her long-time beau, Jack Brooksbank. The highly-anticipated ceremony is the second royal wedding of the year, and of course, royal watchers want to know who will be there. One question on everyone's mind: Will Kate Middleton go to Princess Eugenie's wedding? That all depends on a tiny arrival.
Middleton and Prince William, Princess Eugenie's cousin, are slated to be in attendance at the nuptials, which take place on Friday, Oct. 12 in the wee hours of the morning. But the Duchess of Cambridge may be forced to miss the royal ceremony if her sister, Pippa Middleton, gives birth, according to The Daily Express.
Pippa Middleton and her husband, former professional racing driver James Matthew, are expected to welcome their first child sometime in October, The Express reported. But the couple, nor the royal family, hadn't announced an exact due date, so the younger Middleton sister could very well go into labor on the day Princess Eugenie and Jack Brooksbank are set to get married.
It's not surprising that the Duchess of Cambridge would skip Princess Eugenie's wedding to be present when her sister gives birth to her first kid. After all, Pippa Middleton rushed to her older sister's side when Kate welcomed her third royal baby, Prince Louis, back in April, according to Closer Weekly.
Princess Eugenie and the Middleton sisters, of course, share a cordial relationship, and often socialize outside of royal family events, according to Pop Sugar. But Kate and Pippa are also exceptionally close. Closer Weekly reported back in August that, according to a source close to the royal family, Pippa and Kate "confide in each other about everything." The insider continued, according to Closer:
When they were younger they'd always share stories about boys and school life. Now they're sharing pregnancy stories.
The source added:
[Kate]'s also given Pippa some of Prince George and Princess Charlotte's hand-me-downs but is obviously keeping some for Louis and her next baby. Kate and Pippa have had so much fun shopping online for baby clothes and accessories!
In other words, there's just no way Kate Middleton would miss the birth of her niece or nephew.
It's not certain if Prince William and the royal children, Prince George, Princess Charlotte, and Prince Louis, would also miss the second royal wedding of the yeaar if Pippa Middleton goes into labor. Although not confirmed, Princess Charlotte is reportedly serving as one of Princess Eugenie's bridesmaids, per royal tradition, according to Hello! Magazine. Prince George, on the other hand, will serve as one of the pageboys, Hello! reported.
The two royal children are Princess Eugenie's first cousins, which is why they're part of the wedding party. (For a little royal background: Princess Eugenie is the daughter of Ferguson and her ex-husband, Prince Andrew, one of Queen Elizabeth II's four children.)
If you want to see what happens for yourself, you'll wake up at 4:25 a.m. Eastern time, which is 11 a.m. BST, to catch Princess Eugenie and Jack Brooksbank's royal ceremony live. If you prefer to sleep in, don't worry: TLC will air an encore presentation at 7:25 a.m. Eastern time.