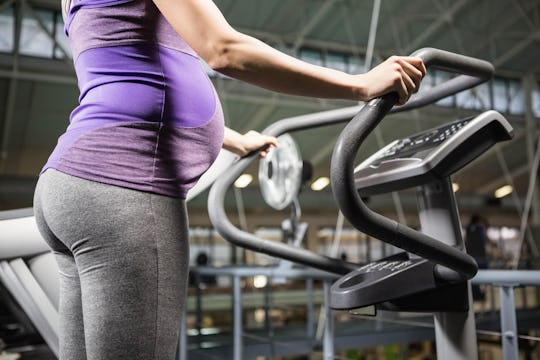 WavebreakMediaMicro/Fotolia
You Won't Believe What These 10 Moms Heard When They Were Pregnant & Working Out
If you're pregnancy is relatively low-risk and your doctor has given you the A-OK, there's no reason why you can't work out while you grow another human inside your body. Unfortunately, not everyone knows that. As a result, you're sure to be on the receiving end of some unsolicited thoughts and opinions regarding your pregnancy work out routine. Don't believe me? Well, just wait until you read what these moms heard when they were working out when pregnant. Just, you know, prepare yourself: you're not going to be all that happy, dear reader.
Sadly, I wasn't surprised when the following moms revealed the horrible things people said to them when they were rocking a baby bump at their local gym. I paddled in a dragon boat competition during my pregnancy and was astounded by a few comments directed my way, so to know other women have endured the same was less a shock and more an infuriating comfort. It wasn't my doctor or my husband that had an issue with my activity level, either, or even my teammates or coaches. Nope, it was perfect strangers who felt it necessary to voice their faux concern.
Being pregnant can be an advert to receive unsolicited advice and most of it is unwanted and antagonizing. From what you eat, wear, do for a living, or even where you go, expect to hear a whole lot of nonsense from people who, more often than not, have no idea what they're talking about. And the next time someone tries to give you their opinion, take solace in the fact that hopefully it wasn't quite as bad as the comments these moms endured. Then tell them to zip it.