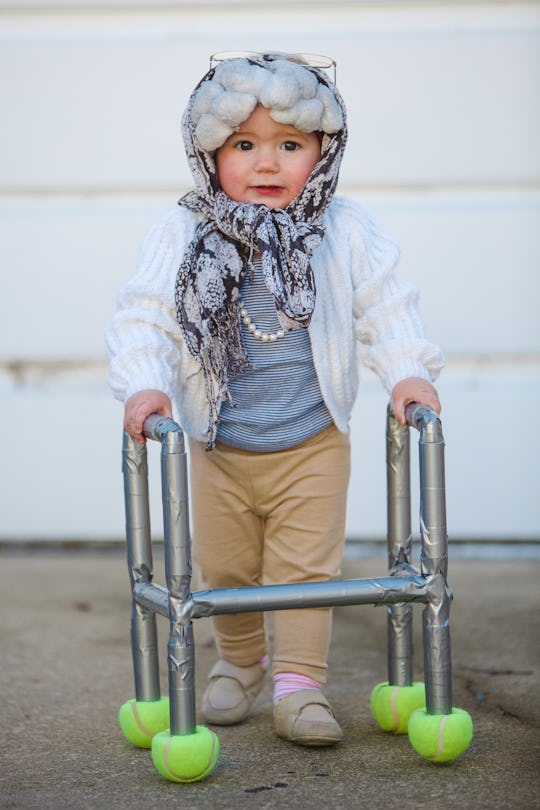 Davin G Photography/Moment/Getty Images
These Baby Halloween Costumes Are The Funniest Ever
PSA: The world needs more babies in wigs.
You can expect to see a parade of popular characters (like Bluey, Paw Patrol, or Minecraft) when it comes to toddler and kids' costumes, but the best part of Halloween is often the funny baby Halloween costumes, where parents' creativity really shines. Babies don't get a whole lot of say in what they wear for Halloween, because well, they can't say anything (that all changes around eighteen months when the strong opinions begin). So if you're the parent of a baby, take advantage of the only year or two where you'll get full control over their costume, and dress them up in something hilarious and unique.
This should probably go without saying, but wigs on babies are always funny. If you can keep a wig on your child without them yanking it off, please, for the delight of us all, do it. Another thing that's always a classic funny baby costume? Dressing your baby up like an iconic adult. From David Rose to Jackie O or yes, Hulk Hogan, seeing an infant dressed like a celebrity or fictional character is bound to get some laughs. Whether you dress your kid as a sandwich (yes it's a thing), a grandma, or the aforementioned '80s wrestler, take inspo from the funny baby costumes on this list. And be sure to snap a pic so you can show them how funny they looked on their first Halloween (they'll forgive you).