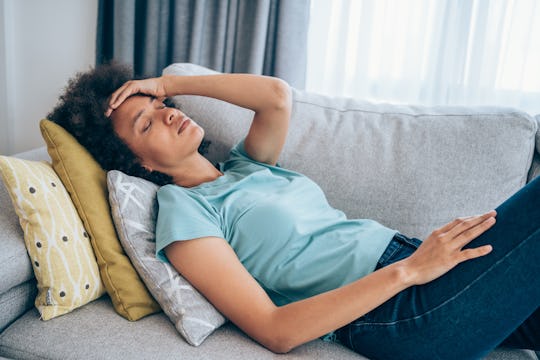 VioletaStoimenova/E+/Getty Images
12 Signs Your First Trimester Is Going Exactly As It Should
It can feel unfamiliar, but try not to stress.
Those first three months of pregnancy — otherwise known as the first trimester — can be tough. All of a sudden, your body starts changing shape, and you're feeling all types of sensations that are pretty out of the ordinary for you. As you start going through the pregnancy process, undoubtedly, you'll be excited and nervous. It's hard not to worry about some of the more unfamiliar symptoms. Thankfully, there are several signs your pregnancy is going well in the first trimester and everything is exactly as it should be.
The first trimester is defined as the time between the fertilization of the egg and the 13th week of your pregnancy. "It begins on the first day of your last menstrual period and continues until the last day of the 13th week," board-certified OB/GYN Dr. Sherry Ross, M.D., tells Romper. You might not even look pregnant yet, but you'll probably be feeling it. Your body is going through so many changes during this time, and it may be hard trying to figure out what is normal and what's not, even if you've been pregnant before. "Many women delight in getting a positive pregnancy test after planning and trying to conceive," OB-GYN Dr. Delisa Skeete Henry, M.D., tells Romper. "They are oftentimes blindsided by the not-so-pleasant first trimester, which can truly be miserable." (Luckily, the first trimester symptoms tend to go away by around 12 or 14 weeks of pregnancy, Skeete Henry says, so try to hang in there.)
As you go through the process of making and growing a human, you'll no doubt be very attuned to every little sensation and symptom. Here are twelve signs your pregnancy is going well in the first trimester to assure you everything is progressing according to plan.
This article was originally published on