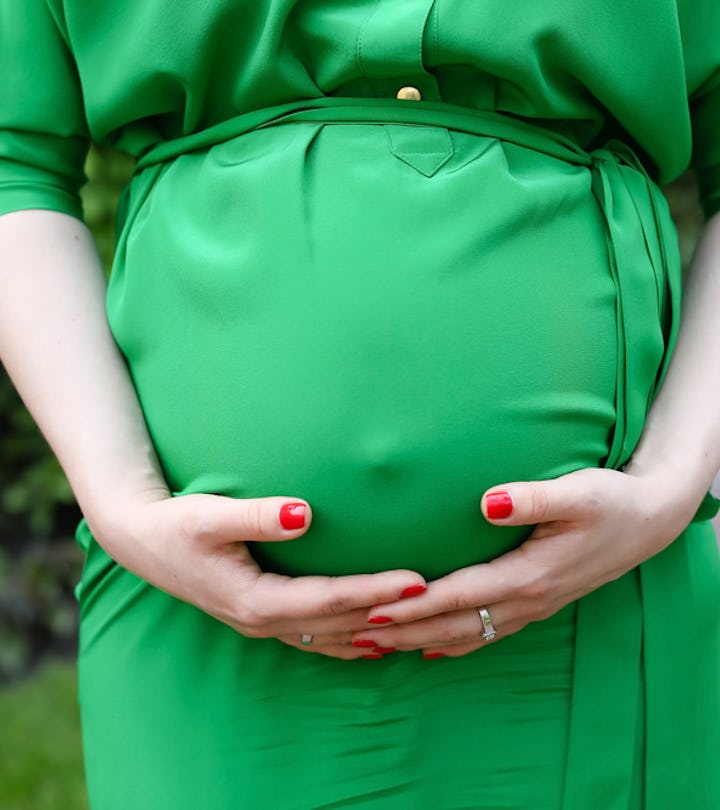 Kristina Bessolova/Shutterstock
16 Festive Ways To Announce Your Pregnancy On St. Patrick's Day
You're ready to tell the world how lucky you are.
Looking for a festive way to announce you're expecting? If you want to show the world you feel luckier than a four-leaf clover, these St. Patrick's Day pregnancy announcement ideas will rock your family's world.
There are so many directions to go in when you choose to break the news on St. Patrick's Day that you're expecting. Maybe you'll play off a St. Patrick's Day theme with a pun-heavy caption or snap a pic of yourself wearing a holiday t-shirt that spills the beans — Etsy has dozens of options if this is your choice. Or maybe you'll turn to a sweet Irish saying to make your big announcement. To really nail the spirit of the day, consider incorporating all the trappings of the holiday: a pot of gold, shamrocks, four-leaf clovers, leprechauns, perhaps a giant mug of Guinness you won't be sipping anytime soon. And get your partner in on the fun. Together you can come up with a brilliant way to say, "the pot of gold at the end of our rainbow is actually a sweet new baby."
In the words of the famous Irish proverb, "Bricks and mortar make a house, but the laughter of children makes a home." Here's to the arrival of your baby.
Picked your announcement idea? Great. Let the baby arrival shenanigans begin.