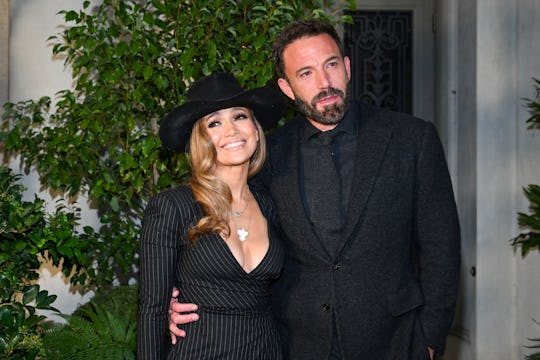 Michael Buckner/WWD/Getty Images
Jennifer Lopez Says Blending Families With Ben Affleck Has Been An "Emotional Transition"
"But at the same time all your dreams coming true."
When Ben Affleck and Jennifer Lopez got married last July, the couple had actually known each other for two decades. They'd even been engaged before, which makes their reunion and their decision to get married at this stage of their lives even more special. While the couple have known each other for decades, the same was not true for the five children they share between them from their previous marriages. And Lopez opened up about the "emotional process" they went through trying to blend their families in a recent interview.
Lopez, who is mom to 14-year-old twins Max and Emme with ex-husband Marc Anthony, opened up on the TODAY show on what it's been like creating a new family with Affleck and his three kids, 16-year-old Violet, 13-year-old Seraphina, and 10-year-old Samuel who he co-parents with ex-wife Jennifer Garner. "We moved in together. The kids moved in together," she said in the interview. "It's been, like, a really kind of emotional transition, but at the same time all your dreams coming true."
Certainly the couple seemed to go to great lengths to make sure both sets of children were involved in not just their initial wedding ceremony in Las Vegas but also joined them for their honeymoon in Paris and a separate ceremony at Affleck's estate in Georgia where family and friends attended. Right out of the gate, Lopez made sure that she was clear on how excited they both were to blend their two families.
"We are so grateful to have that in abundance, a new wonderful family of five amazing children and a life that we have never had more reason to look forward to," she wrote on Instagram after their Vegas wedding. "Stick around long enough and maybe you'll find the best moment of your life in a drive through in Las Vegas at twelve thirty in the morning in the tunnel of love drive through, with your kids and the one you'll spend forever with. Love is a great thing, maybe the best of things-and worth waiting for."
Since the couple married, they seem to have continued working towards blending their lovely families. Lopez took daughter Emme and stepdaughter Violet to see Into The Woods in New York City in August, and the transition to being a wife and a stepmother had her calling this past year the "best year I think since my kids were born." If that's how she feels about five kids in the house including four teenagers, things really must be going incredibly well.