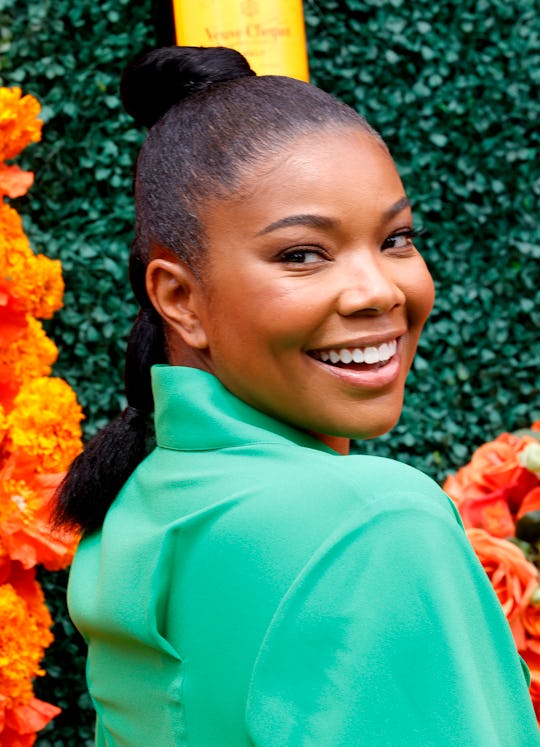 Frazer Harrison/Getty Images Entertainment/Getty Images
Please Enjoy Kaavia James Simply Not Care That Her Mom Gabrielle Union Pays The Bills
Whose house is it? Kaavia James! The adorable 3-year-old toddler of Dwyane Wade and Gabrielle Union stood her ground in a funny Instagram video posted by the actress Monday. And by "stood her ground," we mean she literally tried to keep her mom out of the house.
In the hilarious video, Union is outside while Kaavia is guarding the door inside. The Bring It On actress asks her daughter if it's her house, to which Kaavia replied, "Yes and you can't come in it! It's my house," and closed the sliding glass door on her mother.
Now, Union tried to open the door because "it turns out mommy pays the bills here." Well, turns out, such details do not matter to Miss Kaavia James. "You can't," the little girl responded, which left Union a little dumbfounded.
The two playfully go back and forth with Union asking her daughter to let her back in the house and asking who is going to pay the bills, to which Kaavia reiterated that she could not. In the end, the You Got Anything Stronger author found a way in when the toddler finally opened the door and came onto the porch with an errand in mind. "I'm going to go buy ice cream for you," she told her mother. Union celebrates being inside by dancing and singing, "I'm in the house." The camera darts over to Kaavia who is clearly unimpressed.
"@kaaviajames doesn't believe I pay the bills around here. You think I convinced her?" she captioned the video.
Of course, the interaction was all for laughs but Kaavia is no stranger to sharing her unapologetic feelings on something and is quickly becoming famous for her facial expressions. In another recent Instagram post, Kaavia appeared to be glaring at her hairstylist while she added the finishing touches on her natural curls. When asked if she liked the look, Kaavia allowed her stone-faced facial gesture to do the talking. We call that a poker face fail!
Kaavia is the youngest daughter of Union and Wades; the couple welcomed their daughter via surrogacy in 2018. The couple is also parents to Zaire, 19, Zaya, 14, and Xavier, 7 from Wade's previous relationships.
At just 3 years old, Kaavia has made quite the impression on not only her parents, but all of their fans. In fact, she was the inspiration behind her and Wade's children's book, Shady Baby, and Union told People in an April 2021 interview that she's a free spirit and shade is her superpower. As she told People, "The main takeaway is that she's free to be this amazing, dynamic, shady at times, loving at times Black little girl when the world has not been so kind to Black girls and women."