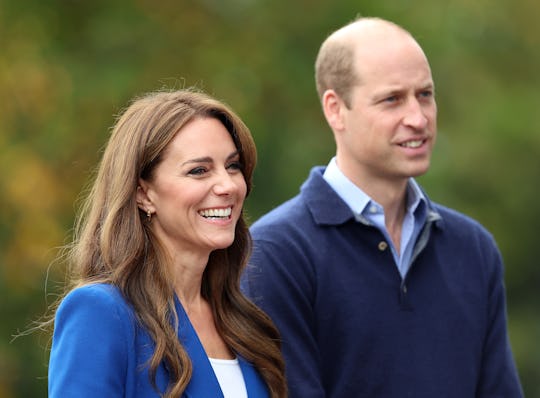 Chris Jackson/Chris Jackson Collection/Getty Images
Kate Middleton & Prince William's Favorite Emojis Are A Bit Shocking
🍆 ❤️ 😂 are apparently in the Prince and Princess of Wales' frequently used emojis.
It might feel a bit impossible to imagine Prince William and Kate Middleton texting, but of course they do. It's 2023 and how would anyone get anything done ever without texting? Or more specifically, without emojis? While the royal couple tend to be incredibly careful about how much they share about their lives, they recently admitted that they both have a favorite emoji. And sure, their choices (especially Prince William's) might seem shocking at first glance. But they are actually the most mom and dad emojis possible when you really think about it.
The Prince and Princess of Wales recently sat down for an interview on BBC Radio 1 in the UK to talk about World Mental Health Day, and the subject of most-used emojis entered into the conversation. Dad of three Prince William first asked hosts Vick Hope and Jordan North, "Is this a clean thing, or is this a family one?" going on to explain that he had been advised against saying what his actual favorite emoji tends to be. "It would've been the aubergine [aka eggplant emoji], but I'm saying now — because I've got to be a little grown-up — it's the one where the eyes go up and down and the mouth's out."
Of course Prince William likes the eggplant emoji. Much like his own mom Princess Diana, he's not above a little bawdy humor. She did get him a boob cake for his 13th birthday, after all. Which is basically the '90s version of a cheeky emoji.
As for Kate Middleton, her preferred emoji is a classic for busy moms everywhere. "Mine's probably going to be the heart," she said first before clarifying, "with then the crying emoji — the sort of like hysterical laughing when things have gone wrong."
Middleton has a lot going on as she raises 10-year-old Prince George, 8-year-old Princess Charlotte, and perhaps most of all, 5-year-old Prince Louis, along with her royal duties. She is currently helping her oldest son prepare to sit for his exams while all of her children are in sports and lessons. And let's not forget that Prince Louis is all about racing around the grounds of Windsor Castle in his toy car, presumably at full speed.
So that "hysterical laughing when things have gone wrong" emoji feels pretty bang on for Middleton. And the rest of us moms.