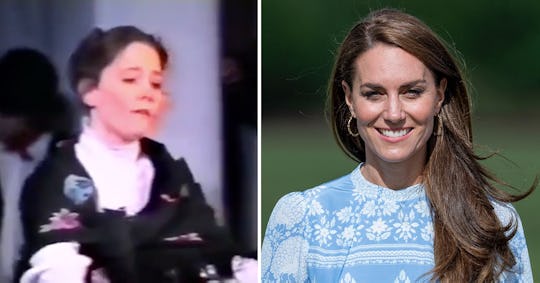 Instagram | Max Mumby/Indigo/Getty Images
This Video Of 11-Year-Old Kate Middleton Singing In My Fair Lady Is So Earnest
She was giving it her all.
The Princess of Wales has a reputation for being sort of effortlessly talented. Every time she heads out on a royal engagement, she just picks stuff up. Whether she's playing tennis or icing cupcakes or using a bow and arrow or sailing, she pulls it off. Perhaps it's all down to her history as a child performer. An unearthed video of 11-year-old Kate Middleton belting out "Wouldn't It Be Lovely" offers a nostalgic look at her ability to perform, and, unsurprisingly she totally nailed it.
The video of Middleton playing the lead in her school play when she was just 11 years old first emerged in 2014 before resurfacing in 2019, and is once again making the rounds on social media. While a student at St. Andrews School, a private prep school in Berkshire, she played Eliza Doolittle in My Fair Lady. The video (which we can only hope was taken by her parents Carole and Michael Middleton as it was so focused on her) sees her singing the classic song "Wouldn't It Be Lovely" in a cockney accent. The (current) mom of three carried a basket and wore a little shawl around her shoulders as she urgently belted out her song with all her heart and soul, and I hope her own children have gotten to see this because they would love it.
Classic FM reports that during her schooling, Middleton not only performed in musicals, but played piana, flute, and was a member of the choir. In recent years, she has actually been getting back to her arts and drama roots in recent years, including a breakout piano recital at her Christmas carol sing last year. She has also been known to encourage her three kids, 9-year-old Prince George, 8-year-old Princess Charlotte, and 5-year-old Prince Louis, to appreciate the arts as well. She took them all to a pantomime performance with her husband Prince William over the holidays in 2020, and she took Princess Charlotte to see the Nutcracker ballet at the Royal Opera House in 2018.
Now if you're wondering which of Middleton's kids follow in her dramatic footsteps, Princess Charlotte is known to love dance and drama just like her mom. She has taken acting classes and dance classes at her school and is apparently a talented little gal. So perhaps she is the one to watch.
Or perhaps we should just keep watching her little brother Prince Louis, who cannot seem to stop performing at every royal function he attends. Even the serious ones. I suspect the acting gene is strong in that one.