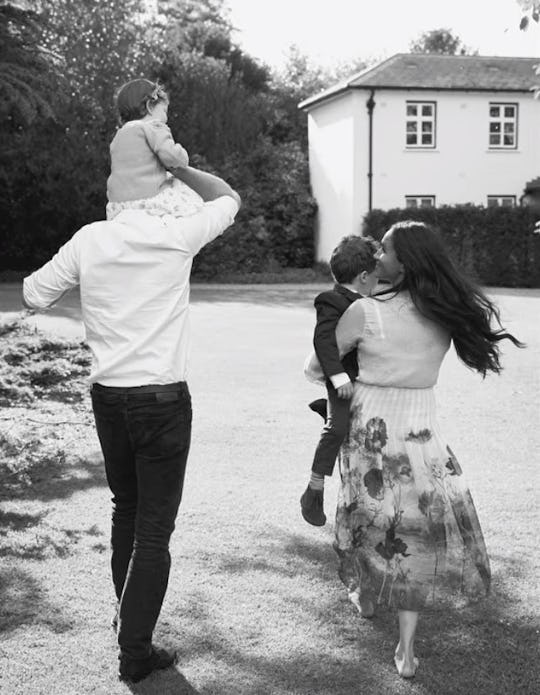 Netflix
Lilibet Looks So Much Like Another Toddler In The Royal Family
Those royal genes are strong!
Prince Harry has spoken in the past about how his mother Princess Diana passed her Spencer genes down to his two children, 3-year-old son Archie and 1-year-old daughter Lilibet. How they inherited the famous Spencer red hair, going so far as to say his mother passed down "the ginger gene" in an interview with Stephen Colbert. But he is apparently forgetting the strength of his father's genes as well. Because one royal toddler looks so much like Lilibet, the two of them could be twins. Never underestimate royal genetics.
The royal relative in question is Princess Eugenie's 2-year-old son August, who she shares with husband Jack Brooksbank. In honor of little August's second birthday earlier this month, Princess Eugenie shared a rare video of her son dancing and walking to the Bee Gees "Jive Talking." While she filmed him from behind, at one point August turned and smiled at her. And he looked just like his cousin Lilibet in that moment. "Happy 2nd Birthday to our boy Augie," Princess Eugenie wrote on Instagram. "You are our worlds greatest joy. Keep dancing and smiling my angel. Xx"
Royal watchers could not get over how much this little guy looked like his little relative in California, Lilibet "Lili" Diana.
Several social media users took to Princess Eugenie's birthday post to point out the similarities. "Omg he resembles Lilibet," wrote one person. "He does look like Lilibet, Duke and Duchess Of Sussex's daughter," wrote another. Several other people pointed out that he also resembled Lilibet's big brother Archie, but it was perhaps the expression on his face mirroring Lilibet's first birthday photo that called her to mind.
August also has the honor of being the only royal child to have visited his cousins Archie and Lilibet at their home in Montecito, California, when he was just one year old. Then he was able to spend time with the famous siblings when they visited the U.K. for Queen Elizabeth's Platinum Jubilee, reportedly attending Lilibet's first birthday party at Frogmore Cottage, the former home of the Duke and Duchess of Sussex and the current home of Princess Eugenie and her family. A family that is about to get one more member. Princess Eugenie announced earlier this year that she is expecting her second child this summer, making August a big brother for the first time. I wonder if this new baby will look as much like those Sussex cousins.