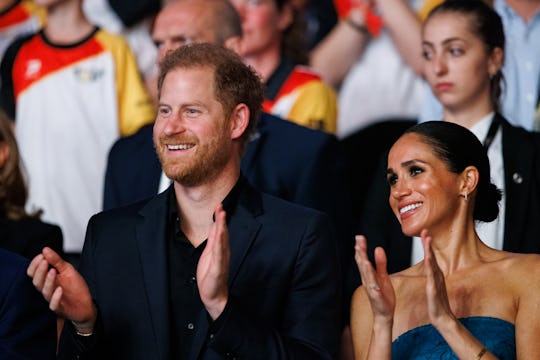 Joshua Sammer/Getty Images Entertainment/Getty Images
Meghan Markle & Prince Harry Had A Fun Parents' Night Out At Hockey Game
The Duke of Sussex got on the ice himself for a ceremonial puck drop, and even got a fist bump.
Meghan Markle and Prince Harry are enjoying more and more date nights now that their two children are getting a little older. Most recently the two went to a hockey game in Vancouver, Canada, where they lived for a brief period of time, and were clearly having the time of their lives.
On Monday, the Duke and Duchess of Sussex were on hand at the Rogers Centre in Vancouver, where Prince Harry's Invictus Games will be held in 2025, to watch the Vancouver Canucks face off against the San Jose Sharks. Prince Harry even got on the ice himself for the ceremonial puck drop, just as his grandmother Queen Elizabeth did at the same spot for the same two teams when they played against each other in 2002, alongside Wayne Gretzky.
After Prince Harry dropped the puck on the ice, he was offered a fist bump from Vancouver Canucks head coach Rick Tocchet, who told the Vancouver Sun that the dad of two took a moment to figure out how to react. "I gave him a fist bump, I don't know if you're allowed to do that. I did it, he did it. He kind of looked at me but he did it. Pretty cool to get a fist bump from him, right?" Tocchet said.
After dropping the puck, Prince Harry joined Meghan Markle in the stands for a little date night.
Whether or not 4-year-old son Archie or 2-year-old daughter Lilibet joined them in Vancouver was not revealed, but it seems fairly likely they came along. Archie did live with his parents in British Columbia back in 2020 after the two stepped back from their senior royal roles. They eventually relocated to Markle's home state of California, but you never know. He might have pals in the area. And they might even return to the area to ski over the winter, as Markle is really hoping both of her children learn to ski one of these days.
Meghan Markle has been enjoying a few fun nights out in recent months, which feels about right considering her children are now a little older and probably a little easier to leave with a sitter, or her mom Doria Ragland, for an evening. She and Prince Harry went to see their Montecito neighbor Katy Perry in concert, and Markle had a fun girls' night catching Beyoncé with Kelly Rowland and Kerry Washington. Now a date night at a hockey game. How perfectly cozy.