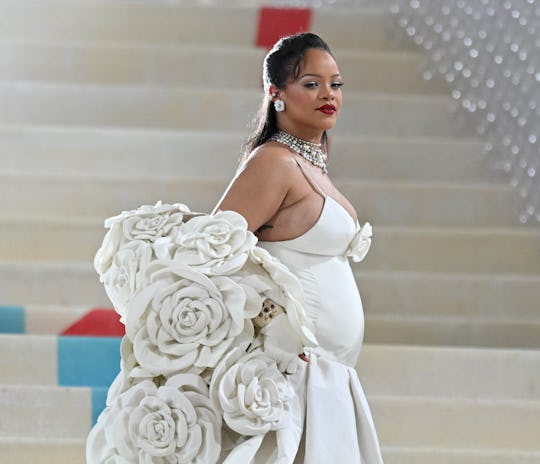 NDZ/Star Max/GC Images/Getty Images
Pregnant Rihanna Breastfeeds Her Son RZA In Gorgeous New Photos For Her Maternity Line
Now that Rihanna is well into her second pregnancy, it's probably not a huge surprise that she has launched a Savage X Fenty maternity line. What was a delightful surprise, however, was her recent photo shoot. The pregnant mom of one breastfed her 1-year-old son RZA in a series of photos where she positively glowed with happiness.
The "Disturbia" singer posed with 15-month-old son RZA, who she shares with partner A$AP Rocky, for a series of photos for her Savage X Fenty maternity line. In the photos, she is wearing a black nursing bra she designed for the line, holding RZA close in one photo as she breastfeeds him. Rihanna is currently expecting her second child with Rocky, exciting news she shared at the year's Super Bowl halftime show when she debuted her baby bump during her performance. While the expectant mom has not shared details on her due date or the baby's sex, we know one thing for sure. She's still breastfeeding baby RZA.
The photos were shared on the Savage X Fenty Instagram page with the caption, "Not ur mama's maternity bras...designed by @badgalriri, approved by baby RZA."
Rihanna's fans were suitably impressed with the designer, with people leaving messages like, "It's crazy what a woman's body can do; breast feeding while creating another human at the same time is WILD!!!!" and "Pregnant with one while breastfeeding another. Women are amazing."
While it does seem like a pretty incredible feat to breastfeed and grow another human at the same time, most women can breastfeed during pregnancy if the pregnancy is not complicated by added heath concerns. It's important to get enough calories and fluids, and there might be changes to your breast milk. But otherwise, we can all rest easy because Rihanna is clearly doing just fine. More than fine, in fact. The expectant mom has been indulging some pregnancy cravings for pasta this time around, and having fun with her fashion choices. Like when she recently wore a "Use A Condom" t-shirt over her pregnant belly, for instance.
Rihanna's Savage X Fenty maternity line features the Savage X Cotton Maternity Bralette ($44.95) worn by the expectant mom in the photos in Black Caviar, Platinum Grey, and Navy Blue in sizes XS to 4X. The collection also has a Savage Not Sorry Lace Maternity Bralette in the same colors, Savage X Cotton Hipsters, and a "Make More Babies" t-shirt in prices ranging from $35 to $60.
"The new maternity capsule is about bringing that confidence and comfort to moms at every stage of their journeys," Rihanna told Vogue. "I want to remind people that you can still channel sexiness and feel good while being a parent."
Rihanna might not be announcing an album drop any time soon, but she is certainly enjoying everything about motherhood. Both with her little boy RZA and her baby yet to come.