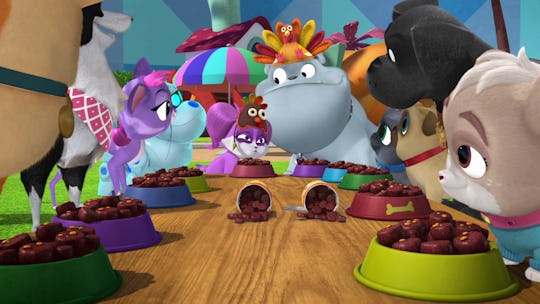 Disney Junior
The Best Thanksgiving TV Episodes For Families To Watch
Get into the holiday spirit with a mix of classic and new specials.
Aside from the football games and trademarked desserts made by that one treasured relative, there's nothing more satisfying after a Thanksgiving meal than sitting down and watching some holiday television specials and episodes. Although Christmas holiday specials are equally treasured and an enjoyable part of the holiday season (and you should absolutely start binging them the day after Turkey Day), there's something about Thanksgiving episodes that can calm all the after-dinner political talk and reaffirm the value of family.
Perhaps it's the lessons of togetherness we learn from classic characters such as Charlie Brown or Arthur. Or the reminder from the Rugrats that Thanksgiving (or as they say, "Hanksgiving") is about more than the turkey. And some turkeys, like the one in PAW Patrol, have to reach new heights to teach a lesson to an entire town. Maybe it's just the nostalgia of watching Thanksgiving television specials while being overly stuffed on the couch together.
Whatever the reason, the following episodes and specials are some of the best to gobble up as a family to get in the Thanksgiving spirit. No matter how old or young your child is, or which streaming platforms you have, there's something here for every family.
Happy watching!
This article was originally published on