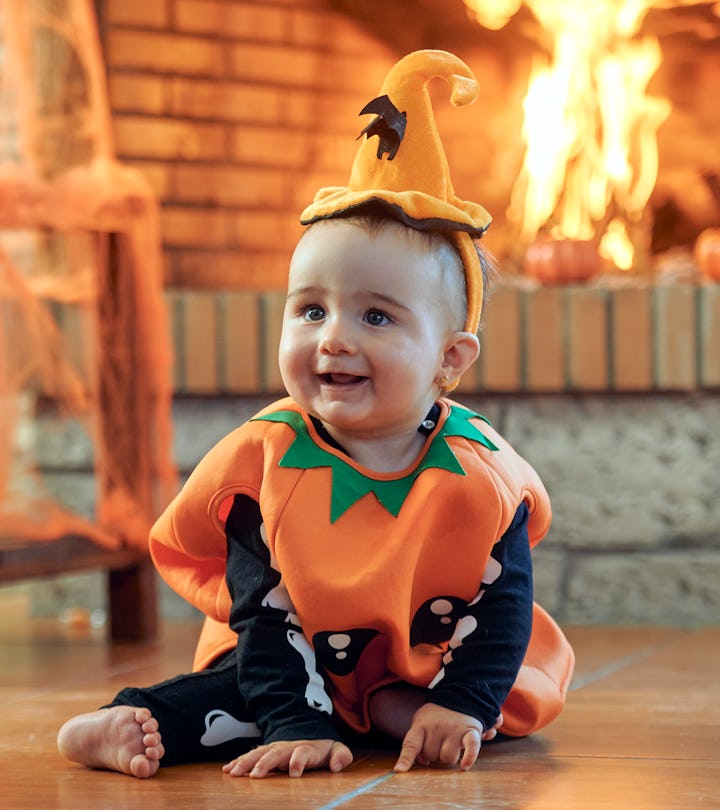 F.J. Jimenez/Moment/Getty Images
28 Halloween Baby Names For Your Little Pumpkin
From spooky to sweet, Halloween devotees will fall for these holiday-inspired names.
Halloween isn't for everyone. Plenty of people prefer to skip right over the ghoulish month of October in favor of Thanksgiving and Christmas festivities. But for the number of nostalgic devotees, these Halloween names for babies are a spooktacular way to honor the holiday they love the most. Alternatively, if you're expecting an October baby around the 31st, a Halloween-inspired baby name may be just what the doctor (Frankenstein) ordered.
As Romper previously reported, there are typically fewer births that happen on Halloween than on other holidays like Valentine's Day. Whether that's through sheer will or coincidence has yet to be determined, but having a Halloween baby name picked out if your due date is near the holiday just makes sense. While you probably aren't actually going to call your child Casper (after the friendly ghost), names like Jack and Annabelle are certainly spooky choices straight from classic Halloween movies. Options like Autumn and Jack are also Halloween-adjacent without being too over-the-top.
Being born on a holiday like Halloween can be both a blessing and a curse, depending on how you look at it. One of my friends from college was born on October 31 and she absolutely loves to celebrate both her birthday and the holiday simultaneously, going all out with orange-and-black everything, creepy costumes, and the like year after year. If you also love witches and vampires, scary stories, skeletons, and things that go bump in the night, check out this list of Halloween-inspired baby names to fill your heart with ghoulish delight.