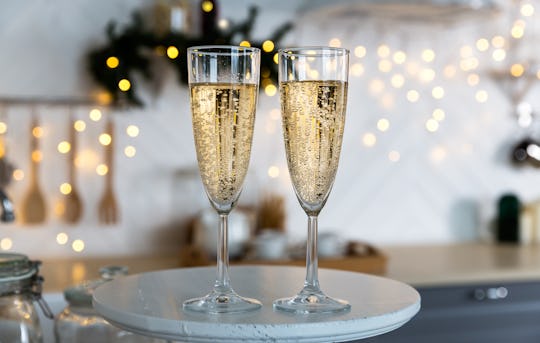 Yulia Naumenko, Getty Images
30 New Year's Instagram Captions Perfect For Saying Adios to 2020
We all want this year to be O.V.E.R.
After the mess that was 2020, everyone's social media feeds could probably use a little optimism. As the clock turns to midnight on Jan. 1, there is suddenly an overwhelming feeling of potential and hope for the year ahead. You can share these good feelings with your friends, too, with a New Years Day Instagram caption to complement your post of the year.
Some look at Jan. 1 as just another day on the calendar that just happens to fall after Dec. 31. Sure, that's technically true, but there's something so symbolic about the start of a new year, especially if the year before was particularly tough. It really feels like a chance to start over, right the wrongs of the previous year, or implement the lessons learned. It feels like a long-awaited exhale and the tension of last year leaving your body.
If you want to celebrate this fresh start and share your newfound hope with your friends, there's no better place to do it than on Instagram. Same goes for sharing a pic of your NYE festivities, even if you counted down to midnight in your living room. Whether you want to go funny or inspirational, post a photo or story of what you're appreciative of in the new year (or something you can't wait to let go) with one of these quotes that are perfect for starting 2021 off right.
It's no secret that 2020 was a year unlike any other. Assuming the stars are right though, we should all be seeing some better days in 2021. Until then, kick off the next year with these New Year's Eve and New Year's Day photo captions that capture all that you feel about the turn of turn of the year.